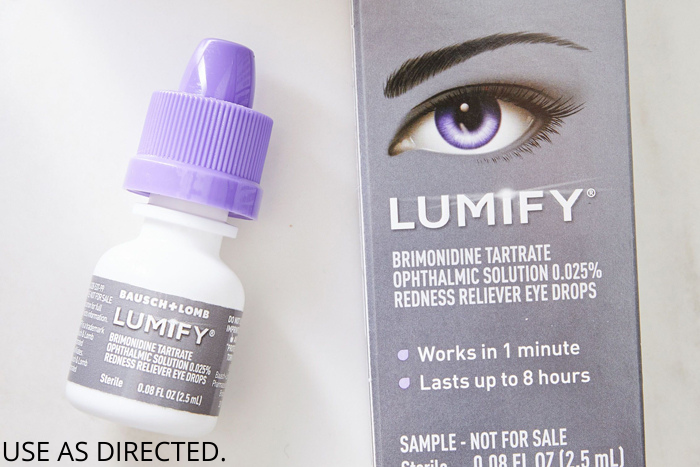 SPONSORED BY Bausch + Lomb, the makers of LUMIFY® redness reliever eye drops
Whether your eyes are hazel, blue, green, brown or anything in between, they are completely one of a kind – just like you. It's no wonder we all try so hard to make them look their best. This is where a little-known celebrity stylist secret can help. Enter, LUMIFY® Redness Reliever Eye Drops.
Check out the five reasons we'll be reaching for this amazing eye drop. 
Works in one minute, lasts up to eight hours
Thanks to the unique ingredient (low-dose OTC brimonidine) LUMIFY eye drops significantly reduce redness to help eyes look whiter, brighter and more vibrant in just one minute and the effects last for up to 8 hours. Your secret to more beautiful looking eyes is just one drop away with LUMIFY. 
No bleach or dyes
These FDA-approved drops have been proven safe and effective in clinical trials when used as directed and do not contain bleach or dyes. 
Selectively targets redness
LUMIFY works differently. Unlike other redness relievers, LUMIFY eye drops selectively target redness because of their unique formulation and have a reduced risk of side effects that are associated with other redness relievers, like rebound redness or loss of efficacy when used as directed. The drops help eyes look whiter and brighter in just one minute!
Developed and recommended by eye doctors
LUMIFY was developed by eye doctors and is brought to you by the eye care experts at Bausch + Lomb. In fact, LUMIFY is the #1 eye doctor recommended* redness reliever eye drop!
*Data on file
Reveals your eyes' natural beauty
No matter what eye color you have, LUMIFY reduces redness to help eyes look noticeably whiter and luminous so that people see you, not your red eyes. 
Want to give these eye drops a try? If you're a FabFitFun member, you can add the drops to your cart for free when you shop Summer Add-Ons.* Check out the sale dates below!
Annual Members
Opens on Thursday, May 6, 2021 at 9 a.m. PT
Closes on Monday, May 10, 2021 at 11:59 p.m. PT
Seasonal Members
Opens on Thursday, May 20, 2021 at 9 a.m. PT
Closes on Monday, May 24, 2021 at 9 a.m. PT
xx, The FabFitFun Team
*Available while supplies last to U.S. Members only. One LUMIFY® Redness Reliever Eye Drops bottle (2.5mL) per person. You must add the item to your cart. If your cart drops below $15 USD, your LUMIFY drops will be removed. LUMIFY is a trademark of Bausch & Lomb Incorporated or its affiliates. ©2021 Bausch & Lomb Incorporated or its affiliates. LUM.0101.USA.21