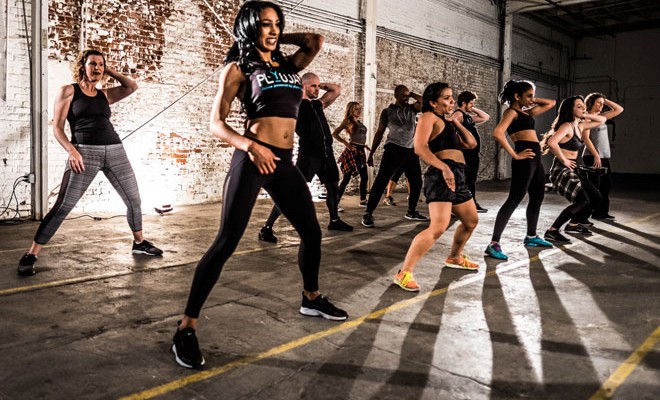 If you've ever been on a dance floor, you probably know that moving and grooving to your fave tunes can really work up a sweat – which is why PlyoJam® is the perfect workout for anyone who loves to burn calories without the grueling and often boring traditional fitness routine.
The innovative cardio dance workout combines interval training with easy-to-follow choreography leaving you energized, confident, and drenched. Think the intensity level of an Insanity video intertwined with the fun of a hip-hop dance class. (It's no wonder this workout is one of Kate Hudson's faves!)
And the best part is that we've partnered with PlyoJam® to offer FabFitFun members their amazing workout videos on FabFitFunTV. We chatted with co-founder Jason Layden to find out what makes PlyoJam different from other boutique studios, and why the new fitness format has become one of the top trending workout classes in the country.
How did you first discover your love for fitness and health?
When I was younger, I was very much into playing sports. Alongside that, my father would take my brother and me with him to the gym. I was exposed to fitness at a very young age and realized that it was very important to stay healthy and fit. It wasn't until I started watching my sister play her VHS tapes of Richard Simmons sweating to the oldies that I realized that working out could be fun! Dancing is something that always came very easy to me, so being able to blend the fitness aspect with dancing made it that much more enjoyable!
What makes your workout method unique?
PlyoJam seamlessly blends plyometric movements with hip-hop style dance movements. It offers the athleticism comparable to a HIIT workout, but remains the fun, sexy dance workout people crave.
What are people most surprised about when they first try your workout?
I think people are most surprised about how easy the dance movements are, and how willing they become to try the plyometric portion. Most people don't realize how much they're going to sweat by the end of the class. And those people who wear calorie trackers are astonished when they realize how many calories they burned!
What should a first-timer be prepared for when trying PlyoJam®?
I tell people to be prepared to sweat! I also tell them to be prepared to dance like a pop star and train like an athlete. Proper footwear and comfy athletic wear are important as well. And hydrate!
Any client success stories?
Stacey Beaman walked into my class three years ago on a mission to make some changes in her life. She had the dancing experience but physically wasn't sure she could keep up. The class transformed her life both physically and socially. On top of that, I gained a friend and a business partner.  
What's your favorite part about helping people get into shape?
It feels good to know that I'm helping someone be healthier. But the real reward comes on the dance floor when I see their confidence grow!

How do you motivate yourself to workout when you're not in the mood?
The music is what motivates me! There's nothing better than doing new choreography to a hot song that just dropped on the radio. That gets me going just as much as it gets the class going!
How do you think fitness has changed in the digital realm?
Fitness has become more accessible to everyone. You no longer need to go to a gym to get a good workout. There are workouts like PlyoJam® that are now offered online with 60 minutes of fresh material. That wasn't around 5 to 10 years ago!
xx, The FabFitFun Team