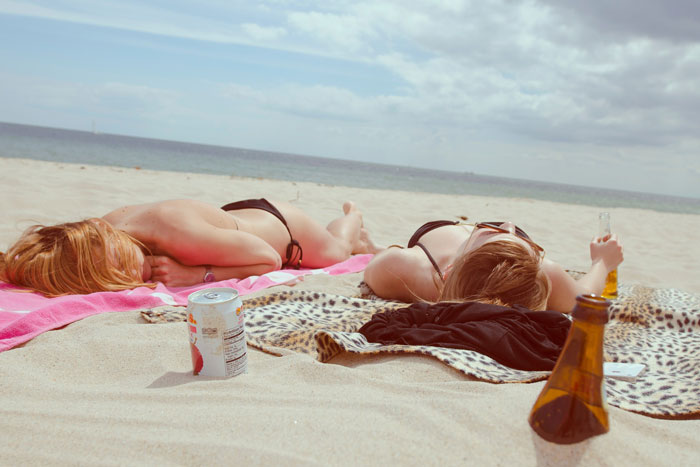 Nothing ruins a day at the beach or outside enjoying the warm weather with friends than discovering you got a painful sunburn. It not only looks bad, but it's also incredibly painful and potentially dangerous to your long-term health.
So what should you do if you get a sunburn? We spoke with Dr. Joshua Zeichner, director of cosmetic and clinical research in dermatology at Mount Sinai Hospital in New York City, and Courtney Chiusano, a Los Angeles-based facialist, for tips on how to treat it quickly and how to prevent getting one again.
Treat the inflammation immediately
When you first discover you've been sunburned, it's important to treat any inflammation. Chiusano recommends applying cold compresses to the burn as soon as possible to help bring down any swelling and ease the pain.
Colloidal oatmeal works well to soothe and protect the outer layer of the skin, while 1% hydrocortisone cream can be used as a spot treatment, Zeichner suggests. You can also turn to your refrigerator and grab either milk or egg whites, both of which are rich in protein and form a protective layer over the skin. Zeichner suggests making a compress, soaking a wash cloth in a bowl with either milk or egg whites along with ice cubes and applying that to the skin.
Apply soothing and moisturizing products
Turn to ingredients that will help soothe the burnt skin and provide hydration to the area. Zeichner recommends a light moisturizer to form a "protective but breathable seal over the skin." However, avoid heavy ointments because they "prevent the release of heat as the skin naturally heals itself."
There's also tried-and-true aloe vera, which Chiusano says is a great remedy because "it helps to cool and heal the skin while being a lighter gel consistency." She also likes vitamin E, Egyptian Magic, and antioxidant-rich lotions. Just be sure to avoid any harsh exfoliants or acids until the sunburn is fully healed.
Don't peel the skin
Chiusano stresses the importance of avoiding picking at your sunburned skin as the layers begin to peel off. "The skin is already damaged so it's best to let it shed naturally, just keep it hydrated as much as possible," she says.
Prevent getting another sunburn
Avoiding the sun during peak hours, which Zeichner says is between 10 a.m. and 4 p.m., is the best way to prevent sunburn. He also suggests sitting in the shade whenever possible and wearing protective clothing and accessories, like a wide-brimmed hat, long sleeves, and sunglasses.
The most important step, however, is the regular application of sunscreen, which Zeichner says should be worn daily. He recommends sticking with formulas that offer at least SPF 30 protection and offer broad-spectrum coverage, which means it protects against both UVA and UVB rays. Chiusano also says eating a diet rich in antioxidants is "great for fortifying your skin against UV damage which is great in conjunction with proper sun protection."
xx, The FabFitFun Team