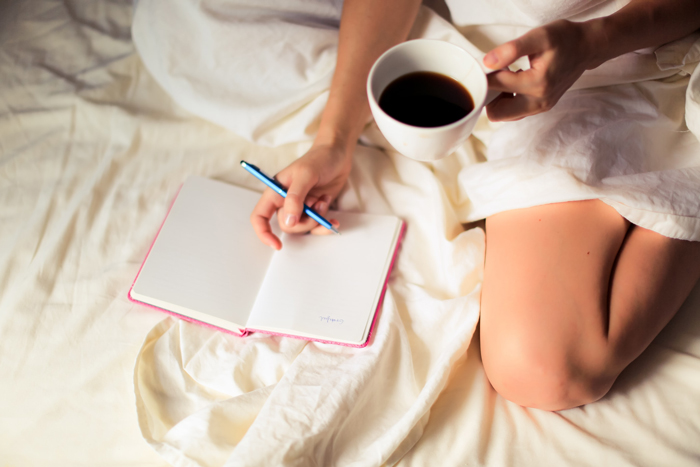 Feature Image by Ava Sol
Whether you're filling your own cup before serving others or securing your own air mask before helping the people around you, the idea is the same: Taking care of yourself first helps you be the best version of yourself, which spills over to those you care about.
But if you're having a tough time lately, we feel you. We talked with a handful of mental health pros to score some advice for demonstrating self-love and self-care. Here's how they suggest showing yourself compassion — no matter your stressors or situation.
Give yourself permission to feel all the feelings
Allie Finkel, co-founder and psychotherapist at Kind Minds Therapy in New York City, says that validating your own feelings is key to self-love. "Remember, strong emotions don't last forever, even though it might not always feel that way. Many people think that by making space for discomfort, they may get 'stuck' in those feelings. Interestingly, research shows the exact opposite. It takes practice to sit with your feelings, so be patient if this is a new approach for you. If you allow it, you'll be amazed at what could happen."
Challenge your fears
Uncertainty can cause feelings of stress, anxiety, and fear. Jessica Marie Ortiz, a licensed clinical social worker, says that fleshing out your worries can go a long way when working to show yourself more compassion. "Make two columns on a piece of paper and write out your fears," she suggests. "No matter how big or little your worries are, writing them down can make it easier to address your fears. Then, in the other column, write down an argument for each one. For example, if you're worried something bad may happen, write down how unlikely that is to actually be true. If you're scared you aren't good enough, challenge that thought by writing down something like, 'I'm doing my best' or 'I'm good enough for me.' Negative thoughts may pop up at first, but as you challenge them, your confidence will grow."
Get back to gratitude
In addition to challenging your fears, Ortiz also says that practicing gratitude can help you find appreciation in small joys or mini moments. "Each day, list five things you appreciate. This will give you perspective, help you reflect on your successes, and feel more positively about yourself," she promises.
Give yourself grace
It's easy to judge yourself for emotions you'd rather not be feeling, whether you're tired, sad, angry, or anxious. But rather than beat yourself up, give yourself some grace. "Ask yourself, 'How can I treat myself kindly at this moment'?" Saba Harouni, LMFT, suggests. "If you need to be soothed, it's OK to soothe yourself. That may mean taking time for a shower, listening to some music, or drinking some hot tea. Remember, what's soothing to you may not be soothing to the next person — what I get from a hot cup of tea may be what you get from a jog or listening to some rock music!"
Practice positive self-talk
"Pay attention to how you speak to yourself," Harouni says. "Would you speak to someone else that way? If you're talking to yourself in a way that would be unacceptable, rude, or mean, it's time to make a change. Talk to yourself like you would a close friend."
Take action
Showing yourself more compassion may mean saying "no" to things you aren't up for, and spending more time on the things that energize you. Feeling low or burnt out? Life coach Dana Humprey suggests leaning into the things you love to rediscover your sense of self. "We often lose our sense of identity while caring for others or just dealing with the normal hustle and bustle of life," she notes. "It's so important to take action to do the things that make you feel alive. Do you enjoy painting? Bike riding? Yoga? Reading a book? It's up to you to make those joys come to light. Always remember, actions speak louder than words."
xx, The FabFitFun Team