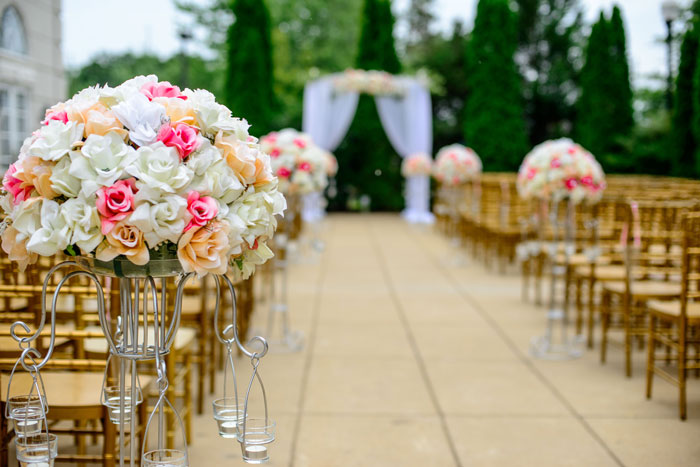 Feature Image by Shardayyy Photography
From sunny weather to tasty seasonal produce, it's no surprise that summer months are peak wedding dates. But if you're looking to tie the knot during the hottest season, there are a few things you should keep in mind.
Below, experts share eight tips to avoid any summer wedding mishaps.
Do's
Think about the comfort of your guests
"If [you're] planning an outdoor wedding, make sure you provide provisions to combat the elements such as heat, sun, and bugs," says Camille McLamb, founder of Camille Victoria Weddings. McLamb recommends setting up a water or lemonade station to keep guests refreshed before and after the ceremony and a basket with sunscreen and bug spray to limit guest complaints.
Set up a bad-weather contingency plan
"Don't forget to set up a bad-weather contingency plan just in case," says Jenna Miller, creative director of Here Comes the Guide. Even in the midst of summer, Miller points out that there are still some weather concerns to be aware of.
Select the right attire
"Your bridal party will love you if you pick short, lightweight dresses during the summertime," says Amy McCord Jones of Flower Moxie. Opt for simpler attire for the groomsmen as well like vests, ties, and suspenders.
Don'ts
Don't serve frozen foods
"Resist the call of frozen foods such as mini ice cream cones, which can be tempting during the heat of summer," says Claudia Aguas of Bold Catering & Design. Instead, she recommends serving treats like mini truffle cones – they look like ice cream, but they don't melt.
Don't delay booking hotel blocks
It's important to keep in mind that summer is the season of corporate conferences, meetings, and marathons, which often get booked a year in advance. To ensure you can get the number of rooms you need at a good group rate, McLamb recommends looking at hotel blocks at least eight months prior.
Don't get married on a holiday weekend
"Don't get married on a holiday weekend unless it's a destination wedding," says Teal Nicholson, creative director of LLG Events. Many businesses either close on holiday weekends or get booked early in advance.
Don't plan an outdoor ceremony in 90-degree weather
"Even though ceremonies typically take only 15 to 20 minutes, your guests will be outside in the heat for much longer," says McCord. It's best to plan for indoor events during hot weather months, she says, and take outdoor photos right before dusk and once the temperature has cooled down.
Don't serve heavy food
"Don't feel the need to provide a heavy spread in the catering department," notes McCord. With heat and dancing, she says that lighter fare works beautifully during warm, summer months.
xx, The FabFitFun Team