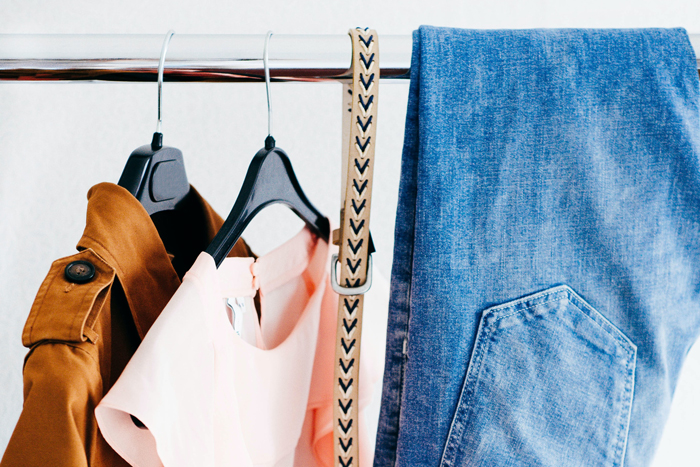 Feature Image by Alexandra Gorn
Staying on top of our mental health is vital during these times, and the World Health Organization echoes that sentiment by suggesting that managing your mental well-being is just as important as maintaining good physical health.
To do that, the WHO recommends "keeping regular routines and schedules as much as possible," including daily chores, regular exercising, and cleaning. So what better time than now to get started on your organizing your closet?
"Using this time in quarantine is the perfect opportunity to get a jump on spring cleaning and closet organization," Brown says. "Starting a new season with an edited closet will make getting dressed a much easier process," says celebrity stylist Samantha Brown.
To help you reorganize your closet like a pro, we asked Brown (plus another expert stylist!) to share tips to keep in mind while giving your closet a much-needed revamp.
Pull out items you never wear
Cleaning out the closet may seem like a challenge at first, but Brown says it's actually an easy process. She advises that you begin by pulling out items you haven't worn in the past six months. Doing so, she explains, allows you to pair these items with other pieces in your wardrobe to see if they are worth keeping or not. "I recommend pulling out the items you never wear," Brown explains. "Try styling them three different ways and snap a photo for later. This is the time to play dress-up since we don't usually get the opportunity to approach our closet this way."
Brown also suggests another cleaning strategy that asks you to separate unworn clothes into several piles. These piles, for example, can be labeled as the perfect fit, try-on, needs alterations, and donate or cosign.
Evaluate all the items in the try-on pile
Once you've established a try-on pile, Brown recommends evaluating items in this pile based on a couple of important questions. Doing so makes the process of saving or tossing items a whole lot easier. "Try asking yourself if these items fit, if they flatter, are there at least three ways I can wear it with my wardrobe, and if I was shopping today would I buy it," says Brown.
Rearrange your closet carefully
Once you've decided what to toss and what to keep, Brown suggests strategically arranging your items. "Put items back in your closet and organize by sleeve length, color, and garment type," she says. "For example, feel free to arrange camisoles and sleeveless tops by color, short-sleeved tops by color, and long-sleeved tops by color. You also can keep jackets and pants grouped together."
Editorial fashion stylist Keicia Shanta also adds, "Separate your clothing by all the seasons. You'll also want to keep your transition pieces (think light jackets) together as these items tend to stay relevant year-round."
Keep sentimental items in a bin
Brown acknowledges that there may be sentimental clothing garments in your closet that you want to keep but will no longer wear, especially if they were passed down to you from loved ones. Instead of tossing these items, she advises keeping these items in a special place inside your home. "I recommend purchasing a storage bin to keep special pieces," she says. "This allows you to keep them without crowding your closet space."
Donate and sell your clothes if possible
Since many donation organizations are currently closed, Brown suggests organizing and sorting your castaways for donations once things go back to normal. "ThredUP still accepts consignments, and will even supply a prepaid shipping label with their closet clean-out bag," she says. "For items that are sorted for donation, box, or bag them so they are set aside and ready to go."
And if you have gently used garments that you would like to sell, Shantar recommends selling them online through platforms like Poshmark. "If you have any luxury garments, handbags, or shoes you no longer want, try selling these items at your local consignment shop once it reopens," she says.
After you've cleaned out your closet, here are 7 things to toss from your beauty cabinet.
xx, The FabFitFun Team