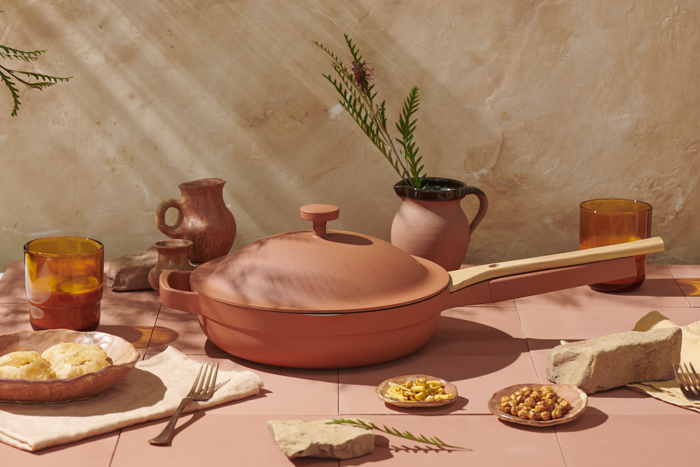 SPONSORED BY OUR PLACE
If you're on social media, you've likely come across the aesthetically pleasing — and genius — Always Pan from Our Place. The Los Angeles-based brand unveiled the innovative cookware in fall 2019, and it quickly sold out and amassed a casual 30,000-person waitlist. Before we dive into the product details, we must share that the Internet-famous pan is finally back in stock. And there's not a doubt in our minds that moms who love to cook and appreciate a well-organized, non-cluttered kitchen will go crazy over it. Hint: this is a great gift idea for Mother's Day.
What's the hype around the pan?
The pan is multi-functional!
Let's dive into details. The Always Pan is a hit not only because it's stylish but also because it's designed to replace eight traditional pieces of cookware. More specifically, it replaces your fry pan, saute pan, steamer, skillet, saucier, saucepan, non-stick pan, spatula, and spoon rest. Our Place obsessed over every detail, ensuring that it's compatible with all cooktops, non-stick and free of potentially toxic materials, and super lightweight.
It comes in aesthetically pleasing colors.
Besides being able to make just about any stovetop dish, it doubles as a piece of decor in your kitchen and on your dining table. It's available in eight colors (the lavender is already sold out, though, sorry!). The brand's newest color is the perfect-for-spring Terracotta, which, we have a feeling, won't be around for long.
What are the reviews on this pan?
Unsurprisingly, we're not the only ones that are obsessed with the game-changing pan. Vogue says, "[This] is the only pan I'm using to cook at home this year," and Oprah Magazine deems it a "kitchen magician." Likewise, the website's reviews section is loaded with positive reviews that contribute to its nearly perfect five-star rating. "This is the best pan I've ever owned," writes one Always Pan owner. "It's the easiest to clean up, the non-stick won't get scratched off, and it has a strainer and steamer to cook all in one! I highly recommend!"
Does Our Place offer other kitchen items?
If you want to take the cooking-themed gift to the next level, it's time to turn your attention to another one of the brand's bestsellers: the Dinner for 4 Bundle. The set is comprised of all of the must-haves one could need for a dinner party, with a chic twist. In addition to the cult-favorite Always Pan, the bundle includes three more entertaining must-haves: glasses, hand-painted porcelain plates, and nesting bowls to match. Like the beloved Always Pan, each of these items is easily stackable to save space in your kitchen cabinet.
Act fast if you want to get the Always Pan or the Dinner for 4 bundle for mom (and for yourself!) before it sells out again. As a FabFitFun member, you get $30 off the Always Pan and 20% off any bundle. Click here to redeem the code. You won't regret it.
xx, The FabFitFun Team