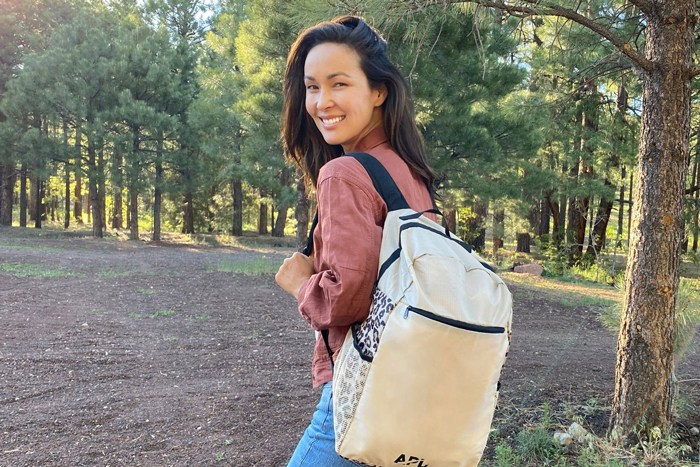 Taking a walk outside, even if it's just for 20 minutes, can do wonders for your mental and physical well-being. Not only will you get your steps in, you can also reduce stress and increase your vitamin D levels.
But we get it — reminding yourself to take a walk outside can feel like another chore, so we're sharing tips to make your walks more enjoyable.
Listen to a podcast or your favorite playlist.
From the daily news to dating advice and true crime stories, use your walk to catch up on your favorite podcasts. Not a podcast person? Listen to your favorite music! Trust us, it's an instant mood booster.
Wear clothes you feel good in.
Feel your comfiest carrying your essentials in the APL – Athletic Propulsion Labs Packable Hiking Backpack? Or want to spice up your look with an adorable cap, like the Cocus Pocus Buffalo Check Baseball Cap? Whatever floats your boat, wear an outfit that is most comfortable to you! And don't forget to protect yourself from UV rays with sunglasses, a cap, and good ol' SPF.
Gamify your walks.
Start some friendly competition with yourself or loved ones by tracking the number of steps you take every day! Whether it's 1,000 steps or 10,000 steps, make it a goal to achieve the number of steps that is most doable for you.
Manifest your dream life.
Imagine yourself achieving all of your goals and living your dream life. When you put positive energy into yourself and into the world, you'd be surprised at how this can shift your mindset and perspective for the better.
Appreciate your surroundings.
You can also walk in silence and be present. While doing so, take note of your feet hitting the ground, the air you're breathing in, and observe what's around you! Appreciating the little things can help you see the glass as half full, rather than half empty.
xx, The FabFitFun Team
Psst! Have you signed up for FabFitFun yet? Don't miss out on seasonal boxes filled with the best products in beauty, fitness, and lifestyle, member-exclusive sales, and more. Use code GOODIESGALORE at checkout for 20% off your first box.
To get the most out of your box products, make sure to check out the Members Only page.