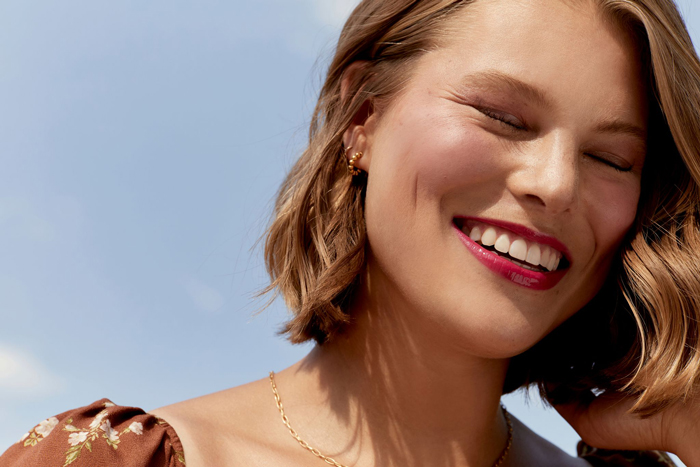 Skin care isn't one-size-fits-all, so you should use products that are specific to your skin care needs! Don't know if you have oily or combination skin? The experts at M.A.D Skincare break down how to determine your skin type and the best way to care for it.
Normal
– Not too dry or oily
– Smooth texture
– Fine pores
Tip: "You might not see signs of aging, but it is good to begin [incorporating] a gentle cleanser containing an alpha-hydroxy into your skin care regimen."
---
Dry
– Slight to severe flaking or peeling
– Easily irritated
Tip: "It is important to use skin care products that do not contain harsh or irritating ingredients yet moisturize and gently cleanse the skin. M.A.D Skincare's Delicate Skin Cleansing Gel contains a combination of licorice extract, chamomile extract, and aloe vera that calm and quench dry, damaged, and irritated skin."
---
Oily
– Shiny or greasy appearance
– Pores look larger
– Tends to experience breakouts
Tip: "Look for a cleanser that helps keep pores clear and balances oily skin. The M.A.D Skincare Salicylic Cleansing Gel is a potent blend of 2% salicylic acid combined with botanicals to fight oil and help balance oily prone skin."
---
Combination
– Oily in the T-zone area
– Dry in the cheek area
– Tends to experience breakouts
Tip: "Start by managing excess oil with a good cleanser. Look for one that has salicylic acid to help reduce oil build-up and clogged pores. The M.A.D Skincare's Salicylic Cleansing Gel is…[also composed] of eight types of amino acids as well as sodium PCA and lactic acid. This combination helps protect skin from dryness and aids in moisturizing, two key factors when tackling combination skin."
---
Sensitive
– Redness
– Irritation
– Dryness
Tip: "Be sure your cleanser is effective and deep cleaning yet gentle, and when drying wet skin, gently dab dry. Do not rub the towel against your face. The M.A.D Skincare's Delicate Skin Cleansing Gel is a gentle, non-drying deep cleansing gel without irritation. Infused with chamomile, aloe vera, and licorice extracts, these healers help ease pain and the discomfort of sensitive, irritated skin."
---
Mature
– Uneven skin tone
– Fine lines and wrinkles
– Skin is more fragile
Tip: "Incorporate a cleanser [with] ingredients [that] include an alpha-hydroxy for exfoliation, [and] a skin conditioner for fragile skin as well as irritation and redness [to] help with [the appearance] of skin's elasticity."
As always, consult your dermatologist with any questions about your skin type and if you're considering starting a new regimen.
xx, The FabFitFun Team
Psst! You can find the M.A.D Skincare products and more beauty goodies in the Fall Box! If you're not a member yet, sign up today so you don't miss out on seasonal boxes filled with the best products in beauty, fitness, and lifestyle, member-exclusive sales, and more. Use code GOODIESGALORE at checkout for $10 off your first box.
To get the most out of your box products, make sure to check out the Members Only page.