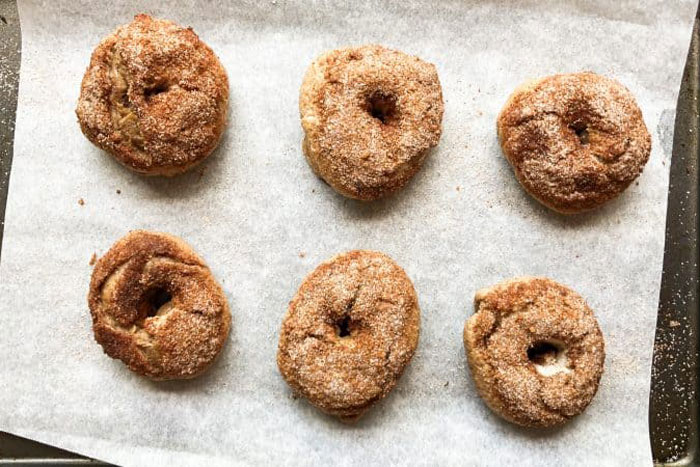 Feature Image by To Eat, Drink & Be Married
There's nothing like a delicious bagel to start your day off on the right foot! If you've ever thought about trying your hand at making them at home, don't be nervous, bagels can be easy to make. To help you out, we've gathered bagel recipes of all different flavors and made with various techniques; all of which will yield tasty results.

If you're looking for more recipes to test in your air fryer, try this bagel recipe. So crank up the air fryer, grab lots of all-purpose flour, baking powder, and Greek yogurt, and you'll tasty bagels in a jiffy.
---
Among other things, New York is famous for its bagels! Even if you can't make it to the Big Apple, you can still get those bagels at home with bread flour, instant yeast, brown sugar, and baking soda.
---
This recipe is super easy to make: once you make the dough, you just pop these in the oven until they turn golden brown. Make sure you have self-rising flour, Greek yogurt, and eggs before you start baking.
---
Inspired by Panera, these bagels are a sugary sweet treat, perfect for breakfast or a snack. You'll need dry yeast, flour, and honey for the dough, and don't forget the butter, sugar, and cinnamon for the topping.
---
These are good for breakfast, but they'd also be a fantastic way to spice up your sandwiches. You'll need some beer, jalapeños, sharp cheddar cheese, and dry yeast.
---
If you can't wait for spring, these strawberry delights are for you. The recipe calls for chopped strawberries, Greek yogurt, and whole wheat flour.
---

Maple and bacon are always a winning and tasty combination. Of course, you'll need some cooked bacon and maple syrup, but also make sure to have bread flour and dry yeast.
---
If you're going keto, check out this easy recipe. You'll use almond flour to make the dough in addition to mozzarella cheese and cream cheese.
---
This is another recreation of the popular Panera bagels you don't want to miss. Make sure to have bread flour as well as asiago cheese and malt syrup.
---
Just because you're a vegan doesn't mean you have to miss out on delicious bagels! You'll need fresh yeast and spelt flour or bread flour in addition to whatever toppings you'd like.
xx, The FabFitFun Team