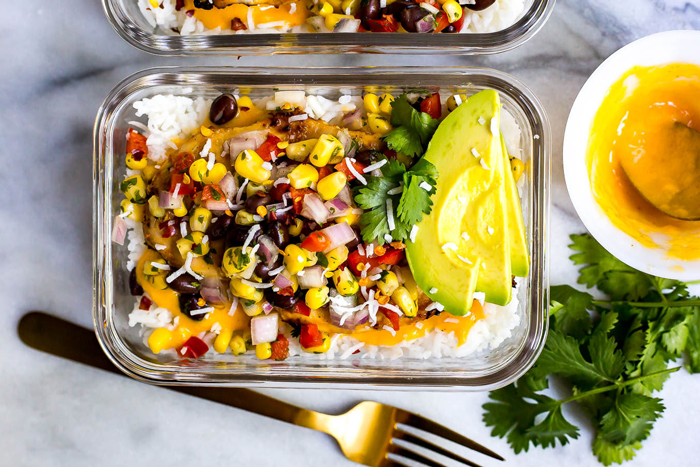 Feature Image by thegirlonbloor.com
Whether you don't have time to cook dinner every night or you want properly-portioned and healthy meals to get in shape, meal prepping is probably something you've thought about trying but never actually have.
We know meal prepping sounds time-consuming, but it's a lot easier than you think. Check out our favorite recipes that make cooking as easy as 1-2-3! P.S. You can find some of these delicious recipes and more on FabFitFunTV (if you're not a member yet, sign up today)!
This easy-to-make chicken dish can easily be split and stored for each night of the week. The maple syrup in this recipe adds the perfect touch of sweetness to an otherwise savory dish.
---
Swap the pasta with zucchini for a carb-free dish. This healthy alternative is easy to make and a perfect lunch to bring to work.
---
This zesty shrimp dish is good for your body and your schedule. All you need is 20 minutes to prep this flavor-packed bowl.
---
You don't have to be a vegetarian to enjoy these meatballs made from chickpeas and mushrooms. Trust us, you'll be drooling over the spicy soy-honey glaze.
---
The tropical fusion of flavors packs an abundant amount of nutrients. Throw it over a bed of basmati rice and top it with fresh corn salsa — you'll be excited to eat this meal every night of the week.
---
Easy to bake and only 50 calories each, make a batch of these veggie-filled cups for an on-the-go breakfast.
---
These vegan and gluten-free tacos are loaded with sweet potatoes, mushrooms, and black beans. It's sure to fill you up while making your taste buds very happy.
---
Say hello to the ultimate easy-to-prepare side dish or snack. The toasted pistachios and arugula garnish give this refreshing recipe an extra unique kick.
---
Talk about a powerhouse of a meal — get your daily dose of protein, veggies, and whole grains all at once with this nutrient-dense dish.
---
Both easy to prep and easy to clean up, this guilt-free chicken and veggie dinner will last you the whole week.
xx, The FabFitFun Team