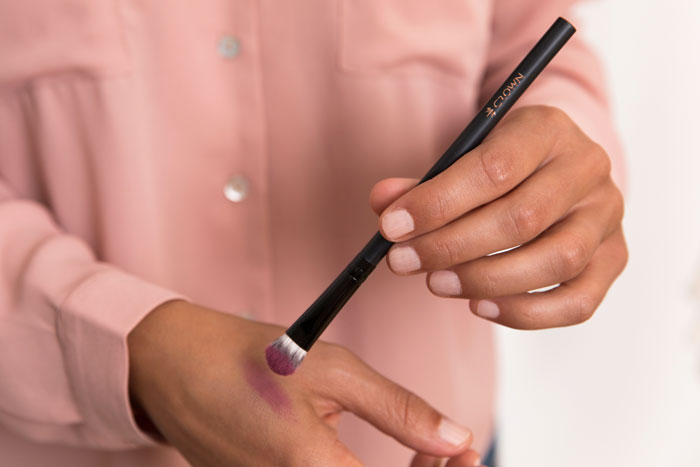 FALL 2018 EDITOR'S BOX PARTNER
Makeup brushes are every beauty junkie's secret weapon. But ask them when they last washed their brushes, and (more times than not) the answer is likely longer than it should be.
Consider this your personal reminder to wash those brushes sitting on your vanity. Below, we're sharing five rules of thumb to follow when caring for your beauty tools.
Wash it once a week
How often should you wash your brushes? While it varies depending on how often you use your brushes, we recommend washing it at least once a week. Your brushes are home to bacteria and oil, which can result in unwanted breakouts on your face (and who wants that, right?). Set aside one day in the week to wash your brushes and turn it into a weekly ritual – trust us, you'll be glad you did!
Use a brush cleaner or DIY
While there are plenty of brush cleaners on the market, you don't have to spend the extra bucks on specially-made formulas. Use any cleanser or bar of soap with makeup removing properties or DIY a brush cleaner by combining two parts antibacterial dish soap with one part olive oil.
Stick to lukewarm water
Just as you would rinse your face, rinse your brushes with lukewarm water. Using hot water can make the glue used to hold the brush together tacky – sometimes causing it to break apart!
Be gentle
Preserve the lifespan of your brushes by being gentle when you wash it. You don't need any special tools to deep clean your brushes – simply use the palm of your hand to gently massage the bristles. Tip: for flat brushes like the Concealer Brush, Shadow Brush, and Eyeliner Brush in the Crown Brush 6 Piece Brush Set, maneuver it back and forth like you're painting a canvas. For round brushes like the Powder Brush, Blush Brush, and Blending Brush, gently twirl it in circular motions.
There's a right way to dry your brushes
The drying process is more important than you think. After you squeeze out any excess moisture with a clean towel, give it a slight fluff to reshape the brush head, then lay it flat on a counter with the bristles hanging over the edge – this is the best way to keep the shape of the brush intact!
xx, The FabFitFun Team
Psst! Have you signed up for FabFitFun yet? Don't miss out on $200+ in amazing beauty, fitness, fashion, and lifestyle products, access to exclusive fitness and cooking content on FabFitFunTV, members-only sales, and more. Join today!
To get the most out of your box products, make sure to check out the Insider page.