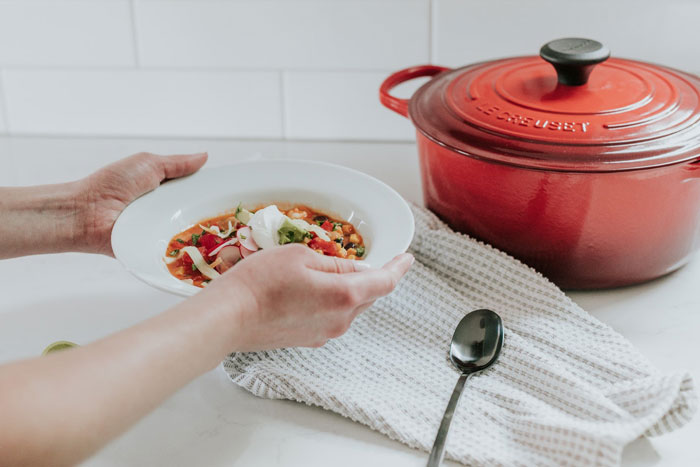 Feature Image by Le Creuset
Everyone knows why we should eat more veggies but the how is a little trickier. Fear not, though – your mom's admonishing warnings at your childhood dinner table won't go unheeded. There are plenty of ways to pack a nutritious punch in every meal without getting bored or feeling repetitious.
Here are five tasty ways to sneak veggies into your meals.
Pickle it
If you think most veggies are bland and lacking in variety, then look no further. Pickling your soon-to-be favorite vegetables will kick things up a notch and add a lot of flavor without a ton of extra calories. The process is incredibly simple and the best part is just about any vegetable can be pickled! Some of our favorites include cucumbers (of course), onions, asparagus, radishes, green beans, and carrots. These taste great with salads, tacos, omelets, spring rolls, or even just as a snack.
Soups
At the end of the week, take the hodge-podge of groceries left over and make a soup! Soups are great because they're so versatile and everyone can make a soup they truly love – even those who struggle to eat their veggies. We're talking sweet potatoes, turnips, celery, chard, spinach, mushrooms, onions, leeks, kale, broccoli, cabbage, or anything your heart desires. Add a few aromatics and a protein and you have yourself an easy, cost-effective meal that can be batched and eaten throughout the next week.
Juices or blends
Juicing or blending vegetables is perfect for meal prepping or for anyone that's constantly on-the-go. You can freeze individual portions and thaw them overnight for a fast, nutritious breakfast. Making your own also ensures you can control the sugar content, which is often the most problematic part of store-bought juices and smoothies. Beets, cucumbers, carrots, broccoli, leafy greens, herbs, and tomatoes are great vegetables for juicing. For blending, try using squash, leafy greens, zucchini, sunchokes, jicama, sweet potatoes, and beets.
Make a dip
Turning your veggies into a puree or dip is a low-cal way to get your daily dosage of greens. Make a fresh baba ganoush or eggplant dip and replace pita chips with cucumbers, carrots, bell pepper slices, baked zucchini, or sweet potato chips. You can also make veggie fries out of zucchini, avocados, carrots, or green beans in the oven, or dip veggie chips in "guakalemole." The options are endless!
Veggie substitutions
This is pretty simple to execute. Zucchini noodles are a lower-carb option for spaghetti or pad thai. Similarly, cauliflower rice is a great replacement for any rice-based dish. You can also swap rice-based meals with your favorite salad base with dishes like seared ahi tuna bowl, garlic shrimp stir-fry, curries, and more. Try using different sturdy greens for your wraps and spring rolls like collards, kale, chard, or banana leaves.
xx, The FabFitFun Team
Now that you have a fridge full of vegetables, here are six tips to keep your food from getting moldy.