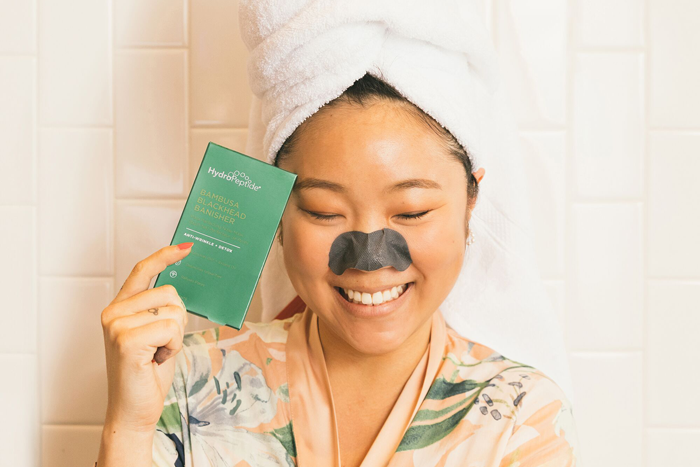 SUMMER 2020 EDITOR'S BOX PARTNER
Even though staying at home means not being able to visit your favorite spas and salons, that doesn't mean you can't find ways to pamper your hair, skin, and nails at home.
One of our favorite ways to occupy our time indoors is by giving ourselves an at-home facial.  To teach you how to pamper your pores in favor of a brighter complexion and mood, we chatted with board-certified dermatologist and co-founder of Modern Dermatology Deanne Mraz Robinson.
Keep reading for her step-by-step approach to an at-home facial.
Step 1: Gather your products
As with any project, it's best to organize everything you need to get the job done. Once you have your products all in one place (more on what those should be, below) in place, pull back your hair with a headband and start the process.
Step 2: Start with a clean slate
Begin by removing all of your makeup and do a thorough cleanse — a double cleanse if you think you need it, Mraz says. We like to use a simple cleanser like the Murad® Essential-C Cleanser, which gently washes away impurities without over-drying the skin.
Step 3: Exfoliate dead skin
"While I like to use a chemical exfoliant one to two times a week, an at-home facial is an opportunity to use a physical exfoliator," Mraz says, noting to look for a product that doesn't have large particles (which can create microtears in the skin leading to irritation, infection and even scarring) in it. Traditionally, Mraz says that the next step of a classic facial would be to steam and extract, but since this is an at-home tutorial, she recommends leaving those techniques to the pros. That said, if you'd like to rid your skin of any pesky blackheads, there are safe, at-home products, like the HydroPeptide® Bambusa Blackhead Banisher. These masks gently draw out impurities from the nose.
Step 4: Pick a treatment or mask
Treat any specific issues with a targeted treatment or mask, Mraz suggests. "For example, if you're fighting breakouts, go with a clarifying sulfur or charcoal-based mask, or if you're dry, look for something super hydrating," she says. Try the Generation Clay™ Ultra Violet Brightening Purple Clay Mask, which is packed with Davidson plum to rejuvenate dull, tired skin, while lightening dark circles and pigmentation.
Step 5: Refresh
After you wash off the mask, refresh your skin post-treatment. Rather than a toner, which might strip the skin of all the goodness you just gave it, Mraz says to rinse off your treatment or mask with micellar water. (Keep in mind, if the mask you use is meant to be left on, you can skip this step.)
Step 6: Finish with nourishing hydration
"Your skin is clean, open, and alert," Mraz says, noting that now is the time to gently pat in an antioxidant serum followed by a hydrating cream like the Too Faced Hangover Good to Go Skin Protecting SPF 25 Moisturizer to complete the facial and seal in the dewy results. We also recommend giving your skin a boost of collagen with the Murad® Rapid Collagen Infusion™, then using the Solluna by Kimberly Snyder Vibrating Facial Tool to stimulate your facial muscles to reveal radiant skin.
Also, if you perform your at-home facial in the morning and plan to spend time outdoors or near a window, be sure to apply sunscreen with at least 30 SPF to protect your complexion from premature aging.
xx, The FabFitFun Team
Psst! Have you signed up for FabFitFun yet? Don't miss out on $200+ in amazing beauty, fitness, fashion, and lifestyle products, access to exclusive fitness and cooking content on FabFitFunTV, members-only sales, and more. Use code SUNFUN at checkout for 10% off your first box.
To get the most out of your box products, make sure to check out the Insider page.