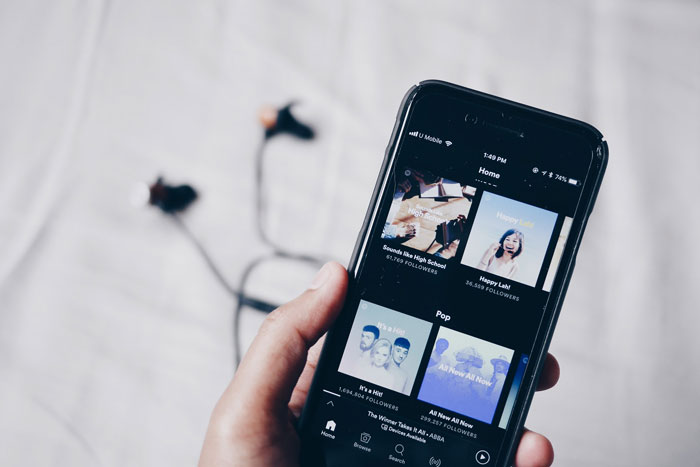 Feature Image by Fixelgraphy
Audiobooks have recently become more accessible and more mainstream as they're an easy way to read a book without actually reading. You can listen to them while you're cleaning, working, or just lounging. Plus, it makes reading a little easier and might work for someone who is more of a listener than a reader.  
Even better, with streaming services like Spotify on board with audiobooks, they are just a few clicks away. Ahead, we rounded up our favorite audiobooks you can listen to right now on Spotify.
Harry Potter by J.K. Rowling
Harry Potter is a new addition to Spotify audiobooks and our favorite wizard tales have a special spin: members of the Wizarding World, including Daniel Radcliffe, are reading the first book so it makes the book that much more exciting!
The Hunger Games by Suzanne Collins
If you want to brush up on your District 12 knowledge, you can find all of Collins' books on Spotify! It comes at a perfect time since the prequel is being released on May 19th!
Little Women by Louisa May Alcott
With the release of the latest movie late last year, everyone has been talking about Little Women. Maybe reading the book just isn't in the cards and you want to familiarize yourself with the story before watching the movie…enter the audiobook.
Me by Elton John
Was Rocket Man your favorite movie last year? Then you will love Me, Elton John's autobiography, read by Elton John and his portrayer Taron Egerton.
The Champagne Diet by Cara Alwill Leyba
When you need a little inspiration, this self-help book will teach you how to live the life you want and deserve.
My Week With Marilyn by Colin Clark
Marilyn Monroe is someone the public has always been curious about and, now, you can get a first-hand account of what the icon was like from Colin Clark's book My Week with Marilyn.
Before We Were Strangers by Renee Carlino
If you're in need of a good romance novel to occupy your time, Before We Were Strangers is the perfect book. A story about a star crossed missed love connection will keep you enticed until the very end
Room by Emma Donoghue
The Oscar-winning movie based on the book was released a few years ago but now you can (listen) to the book to see if it lives up to the film!
The Wrong Man by Kate White
Do you love true crime and psychological thrillers? This novel follows the story of a woman who is faced with the realization that the person she thought she knew, wasn't the real him at all. Listening to this is the perfect way to spend your days!
The Shape of Water by Guillermo del Toro
Another Oscar-winning motion picture that got its start in book form. If you have never seen the movie, or just want a different perspective of the story, you can listen on Spotify!
xx, The FabFitFun Team