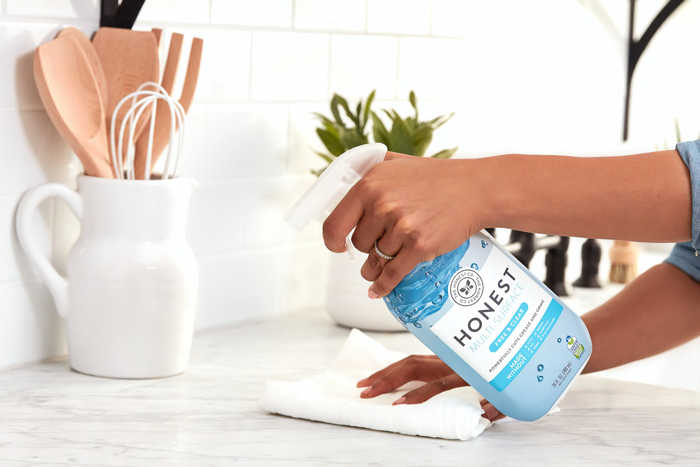 Feature Image by The Honest Company
We rang in spring just a few weeks ago so it's no wonder you're itching for a newly found order within your space. That coupled with the current situation has us reaching for disinfectant left and right.
And, now, with the extra time at home, you can tackle some cleaning projects that you might have been putting on the backburner. So roll up your sleeves because it's time to clean a few things you may have forgotten about.
Phone
Staying in touch while staying at home has us calling people all day and night. Be sure to disinfect the surface and while you're at it, delete old apps, photos, and texts to free up storage space.
Computer
Sanitize your keyboard from top to bottom. Then, declutter your desktop by deleting old files and organizing existing files into new ones.
Makeup and brushes
Throw away old makeup (yes, even the samples) and wipe everything clean. If you keep your beauty products in a bag, rinse it out. If you have a designated drawer, give it a good scrub. Next, soak those makeup brushes, clean your hairbrush, and give some sanitizing love to your pet's brush while you're at it!
Desk
If you're working from home right now, it's imperative that your workspace be a relaxing sanctuary. Be sure to dust and sanitize first, then clean out old papers, knick-knacks, and pens that don't work.
Closet
Yes, it's time to say goodbye to the sweater that you keep around "just in case." Go through your clothes and get rid of any that don't…spark joy. Once you're done, vacuum the bottom and dust off your shoes. If you can, toss some shoes in the wash or break out a toothbrush and dish soap to erase any scuff marks.
Nightstand
This one is pretty simple. Clean out everything that's ended up there and dust all the surfaces. Then brighten it up with some flowers (or a glass of wine).
Under the sink
Let's be real, when was the last time you cleaned here? We'll leave it at that.
Bookshelf
This may not be at the top of your list, but all those ledges pick up some major dust. Sort through the books first, then clean the shelves. If you're really looking for a good time, try organizing your books by the color on the spine!
Trash cans
These can get gross and need a major cleaning session. Take out the trash and then give the canister a good wipe down. We recommend filling it up with soap and water and letting it soak.
Purse, briefcase, or laptop bag
We take them everywhere, but how often do we clean them? Toss the trash, organize personal belongings, and put things back in their place. You can even use leather wipes to clean the outside.
You can always find something to clean when you have a lot of downtime, but we know this list can serve as the perfect starting point for your next wipe-down session! After you've finished cleaning everything, here are 10 things you can do at home this week!
xx, The FabFitFun Team