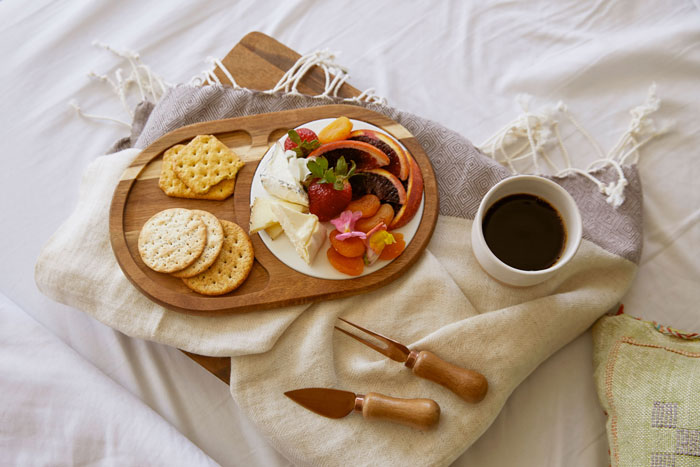 FALL 2019 BOX PARTNER
Whether you're throwing an end of summer pool party or a small get-together with friends, putting together a charcuterie board is sure to please your guests. It's not only beautiful to look at but it's also super easy to make.
But if you've never made one before, don't sweat it. Here are four expert tips for building the perfect charcuterie board.
Presentation is key
"The presentation is almost as important as what you actually include, so make it count," says Bri Bell, registered dietitian and founder of Frugal Minimalist Kitchen. The presentation starts with the board itself, and we're obsessed with the Twine Cheese Board with Plate because of its chic acacia wood design. Plus, it comes with its own set of knives and a ceramic plate.
Aim for balance
"Similar to life, the perfect charcuterie board is about balancing everything," says Lindsay Anvik, who is one half of Babe & Butcher. You want to include items that are salty, sweet, and acidic. For instance, salty items can include cured meats and cheeses. Achieve sweet flavors by adding honey, jam, or fruit. You can get the acidic elements on the board with cornichons, olives, or pickled vegetables.
Mix it up
According to Anvik, the old adage is true: variety is the spice of life. The same goes for a charcuterie board. "What makes a charcuterie board fun to eat (and look at) is having a variety of items," she says. "So even if you want the board to be cheese-heavy or have more meat, make sure to include lots of variations of those items." You can even play with contrasting flavors and textures.
Add veggies for a pop of color
A charcuterie board can look a little dull when you're just sticking to cheeses, nuts, and meats. So to make your display visually appealing, add a pop of color. As Mareya Ibrahim, a nutritionist and author of Eat Like You Give a Fork, says, piling up on the veggies is the way to go. Purple cauliflower, cucumbers, tomatoes, and carrots can add "a variety of beautiful color and probiotic crunch." To take it a step further, go for seasonal fruits and vegetables, such as figs, apples, and grapes.
xx, The FabFitFun Team
Psst! Have you signed up for FabFitFun yet? Don't miss out on $200+ in amazing beauty, fitness, fashion, and lifestyle products, access to exclusive fitness and cooking content on FabFitFunTV, members-only sales, and more. Use code FALLVIBES at checkout for 10% off your first box. #yourewelcome
To get the most out of your box products, make sure to check out the Insider page.