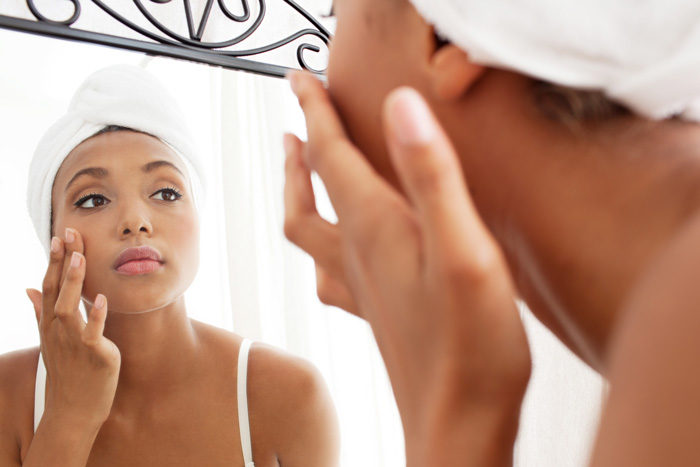 FALL 2019 BOX PARTNER
In general, vitamin C is most known for being the ultimate immune system booster. As an antioxidant, it helps to protect your cells from the damage caused by free radicals in the environment. It also helps your body make collagen, which is a protein needed to help wounds heal.
But consuming vitamin C through supplements or the food you eat isn't the only way to receive its many benefits. There are a ton of skin care products out there today that contain the essential vitamin. So what exactly does vitamin C do for your skin? We talked to experts to find out everything you need to know.
Slows signs of aging
"Vitamin C is a powerful antioxidant that helps neutralize free radical damage from ultraviolet light and pollution," says Dr. Sonia Batra, a board-certified dermatologist and co-host of The Doctors. "By quenching free radical damage, vitamin C slows signs of aging in the skin, such as discoloration, wrinkles, and even precancerous changes."
Accelerates collagen and elastin production
"Vitamin C is highly acidic, which triggers the skin to accelerate the production of collagen and elastin, resulting in plumper, revitalized, smoother skin," says Cindy Kim, co-founder of Silver Mirror Facial Bar.
Inhibits melanin production
The vitamin also works to inhibit melanin production, which causes hyperpigmentation and dark spots in the skin. So products containing vitamin C can help to fade dark spots and give you brighter skin. "Vitamin C is generally safe, gentle for everyone, and seriously produces results," Kim says.
Protects you from UV damage
Vitamin C products alone can't be your sunscreen because it doesn't really block or absorb ultraviolet rays, but since it is an antioxidant, studies have found that it can protect you against damage induced by UV light exposure.
Boosts your skin care regimen
When you're searching for the best vitamin C-infused products, it's best to look for those containing ascorbic acid. "This is the most stable form and the most effective for penetrating the skin," Dr. Batra says. Serums are generally formulated to be better absorbed and deliver more concentrated active ingredients than creams or lotions. Mixing in a little bit of Cosmedix Pure C into your serum or moisturizer of choice can also help to boost results.
xx, The FabFitFun Team
Psst! Have you signed up for FabFitFun yet? Don't miss out on $200+ in amazing beauty, fitness, fashion, and lifestyle products, access to exclusive fitness and cooking content on FabFitFunTV, members-only sales, and more. Use code FALLVIBES at checkout for 10% off your first box. #yourewelcome
To get the most out of your box products, make sure to check out the Insider page.