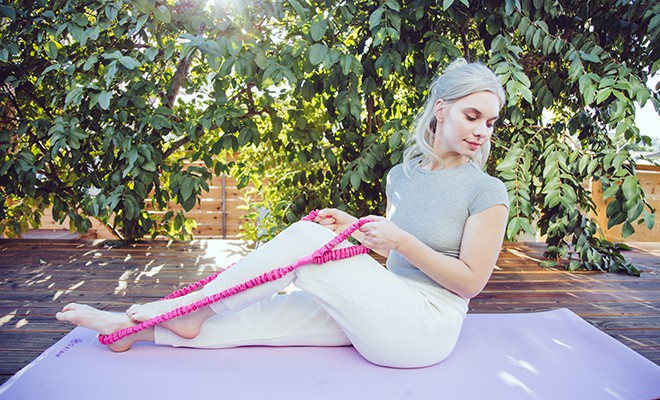 When you're leaving for your next yoga sesh, what do you pack with you?
Let us guess — your mat, water bottle, and headband. But little do you know, there are so many other awesome yoga accessories that you didn't know you needed! Check out our list of must-haves below to make your yoga sesh that much better.
Gaiam Yoga Essentials Block $10.98
Yoga blocks are incredibly helpful, especially if you're a beginner yogi. Blocks help lengthen your reach for band bends and similar poses, and can also provide support in areas you need them. This one comes in tons of colors, so you can coordinate your gear!
---
Summer and Rose Yoga Towel: Good Vibes (pink) $32
Yoga towels are awesome for those who have trouble holding poses when they get sweaty — especially in hot yoga! If you're doing yoga on a softer surface, this can also be used as a substitute for a mat. This adorable towel is featured in our Welcome Box V.2.
---
Lululemon Loop It Up Mat Strap $18
Easily tote your your yoga mat around with this handy strap. Not only does it make carrying your mat convenient, but it also doubles as a stretching strap!
---
Toesox Full Toe Bellarina $18
Toesox aren't helpful for maintaining poses during hot yoga sessions thanks to the grip on the bottom. It also gives your toes room to stretch and breath during more difficult yoga poses.
---
Jasmine Seven Yoga Mat Cleaner Wipes $3.50
Think about it: You sweat all over your mat during every yoga sesh. Not only that, but it's on the floor more often than not. Wipe your mat down after each session to keep free from bacteria.
xx, The FabFitFun Team
P.S. Psst! Have you signed up for the #FabFitFun box yet? Don't miss out on $200+ in amazing beauty, fitness, fashion, and lifestyle products every season. Join today!
To get the most out of your box products, make sure to check out the Insider page.