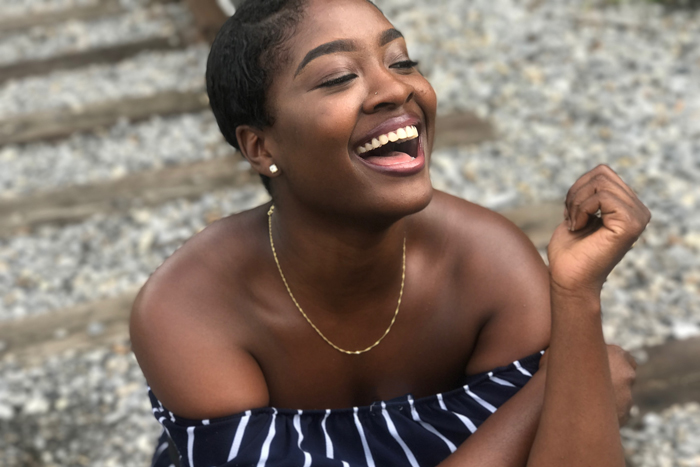 Feature Image by Pam Sharpe
Whenever we're feeling down and out about ourselves, it's so easy to just ruminate in that feeling. We take to apps like Instagram to pass the time, but more times than not, seeing someone else's highlight reel is like pouring salt into the wound.
Next time you're sliding into a slump, treat yourself kindly. Take a moment to recharge, refocus, and regroup. Remember how powerful it was when Sandra Bullock's character in Miss Congeniality made her first "new fit, who this?" appearance? We're looking to recreate that feeling, but in more subtle ways like:
Wearing your favorite perfume
All you need is a spritz or a splash of your favorite scent to take that confidence level from 0 to 100. Smelling good will have you feeling good, and there is no doubt about that. Looking for a new scent? We're lightly soaking ourselves in the LUMIRA.™ x The Vow by Nicole Trunfio Perfume Oil. This elixir has light notes of lemon, grapefruit, florals, and more sensual scents like rose, tobacco, and sandalwood.
Writing nice things about yourself
Journaling is such a cathartic experience, but we're usually talking about our feelings and venting to the pages about what we can't put out into the world. Next time you're feeling a little low, try picking up your pen and jotting down at least three things you like or love about yourself. These could be personality traits, physical qualities, relationship qualities — anything that's going to remind you of how great you are. We recommend doing this daily, and then revisiting when you're faced with a challenging moment and need a boost of confidence.
Striving for progress, not perfection
It's the little things that remind us how far we've come. Whether it be work, fitness, beauty, relationship, family, or hobby related, remember that it's not about being perfect — it's about doing your best. When you look towards those little signs of progress, you can begin to feel good about whatever it is that you're doing. Instead of chasing for the end result of perfection (which does not exist), look back on all the progress that you've made and everything that you've accomplished to fuel your passion further!
Pampering yourself
Ball out on at-home, treat-yo-self day. The best way to feel good is to literally lather yourself in creams, face masks, oils, and more. We recommend trying the Lapcos Daily Skin Mask Charcoal 5 Pack. The masks are packed with ingredients like tea tree oil, charcoal extract, and salicylic acid and are perfect for rejuvenating that skin and that confidence.
Putting on your favorite outfit
We can all agree that when you're dressing up, you should dress for yourself and no one else. Pick out your favorite blouse, pair it with a new pair of pants, and a fabulous pair of earrings — and don't be afraid to rock those shoes that are collecting dust in the back of your closet. Nothing says "I'm coming out, I want the world to know" quite like an outfit that shocks, but also makes you feel good.
We're all in this together. Do you have tips or tricks for boosting your self-confidence? Let us know in the comment below!
xx, The FabFitFun Team
Psst! Have you signed up for FabFitFun yet? Don't miss out on $200+ in amazing beauty, fitness, fashion, and lifestyle products, access to exclusive fitness and cooking content on FabFitFunTV, members-only sales, and more. Use code SMILE at checkout for $10 off your first box.
To get the most out of your box products, make sure to check out the Insider page.