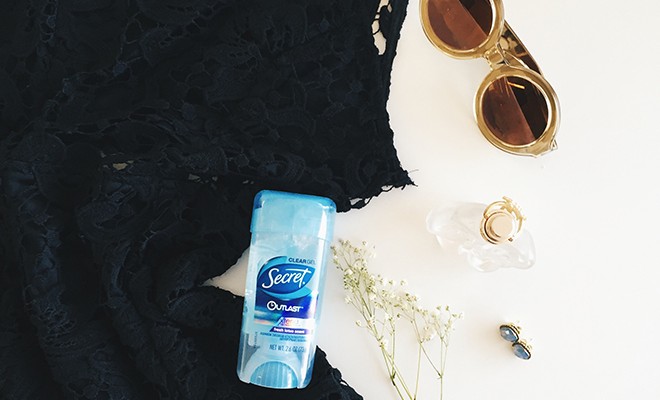 Sponsored by Secret®
We have a confession. We have been rocking our favorite black dress for 10 years. Yes, the same dress we jammed out to Justin Timberlake's SexyBack in circa 2006, we're still bringing sexy back in today.
Here's how we amp up our LBD to get the most out of it over and over again:
Wear a Statement Necklace
Whether you add a chic collar necklace, a trendy choker, or a pretty lariat — a necklace can make your go-to black dress look new again.
Pump up Your Pucker
A bold pop of color looks amazing contrasted against a black dress. Try a hue you normally wouldn't, such as a red-orange or fuchsia.
Wear the Right Deodorant
One pop of color you don't want? White deodorant marks! We wear Secret Outlast Xtend Clear Gel with our LBD, which is specifically formulated to dry fast and leave no white marks or residue. We're talking just two clicks, a few swipes, and seconds to dry for #ClearlyBetter 48 hour odor protection.
Rock an Updo
Changing up your signature hairstyle by trying a braid or updo can give you a whole new look. Especially if you have dark hair, pulling your mane up will break up the space between your gorge face and that LBD.
Choose the Right Shoes
A new pair of stilettos, a strappy pair of sandals in an unexpected color — getting away from your usual pair of black or nude pumps will totally give your LBD a leg up.
xx, The FabFitFun Team