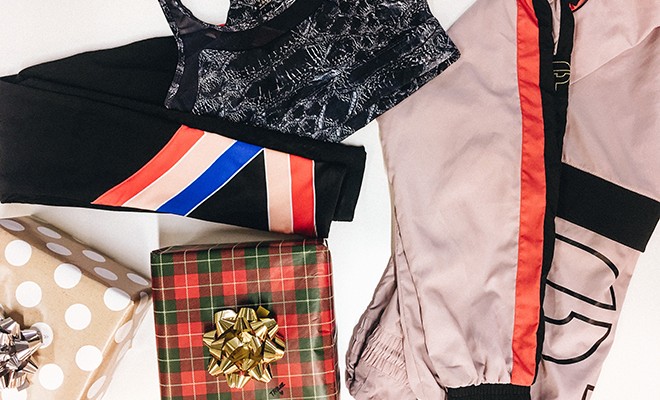 Stumped on what to get the spin-obsessed, ClassPass gal in your life? Well, don't go the typical route and gift her a $10 water bottle or the neon sports bra you found during a sale a few months ago.
Instead, put a more thoughtful present under the tree this year. We found the best of the best fitness items ranging from tech to fashion, and we're sure the gift recipient will be even more motivated to get their sweat on through the end of the year and beyond.
Hidrate Spark Water Bottle $54.95
Before you write us off as contradicting ourselves, hear us out. This tech water bottle uses a sensor inside the bottle to automatically record how many ounces of water you're drinking per day and helps keep you on track of your daily hydration goal. You'll never miss the 8 ounce mark again!
---
P.E. Nation Centre Pass Striped Leggings $120
These aren't your typical leggings — it's cut from moisture-wicking four-way stretch fabric so the gift recipient will always have a comfortable, sweat-free workout. Also, the colorful stripes and branded waistband will have them spinning away in style.
---
tech21 Evo Wallet Active Edition Case $49.95
Know a runner that likes to work out with everything in hand? Gift them this sleek iPhone 7 case, which includes a detachable wallet to hold earphones, cards, and/or keys. It's convenient to pack the little things and the case has drop protection — perfect for those clumsy runners.
---
Varley Sage Nightstalker Bra $65
If your best friend is into HIIT workouts or is training for an upcoming marathon, this bra is perfect for her as the fully lined racerback bra provides high level support and comfort. The mesh panels offer essential breathability during any intense work outs as well. Oh, and how cute is this print?
---
Fitbit Charge 2 $129.95
Is your best friend obsessed with reaching over 10,000 steps every day? This Fitbit is perfect for them. The Charge 2 records the number of steps you take every day, tracks your workouts like running and biking, and even guides you through breathing sessions.
---
P.E. Nation Man Down Printed Shell Hooded Jacket $180
This stylish jacket is too good to be true. Keep warm during your outdoor workouts with this lightweight jacket. It has zipped pockets for you to easily stow your gym card and keys and a ribbed waistband — making this outerwear functional and stylish.
---
Batiste Dry Shampoo Holiday Trio Pack $13.50
For the girl who's constantly on-the-go from yoga to work, she needs products that can instantly freshen up her look. Give her this trio of dry shampoos, which will absorb the oil at her roots and leave her locks lookin' texturized.
---
Fabletics Teresa Tank $39.95
Every girl needs a solid tank she can sweat away in. We're obsessed with this one as it provides all the coverage you need with surprise sexy cutouts on the sides. It also has a relaxed fit so any fitness fanatic can work out in comfort.
---
COOLA Face SPF 30 Unscented Moisturizer
Don't forget about your active snow bunnies. Remind your loved one to protect her skin while she's out skiing because even if it the sun isn't shining, damaging UV rays are still beaming. This unscented moisturizer has SPF 30 and will boost the skin's defenses against the sun.
xx, The FabFitFun Team