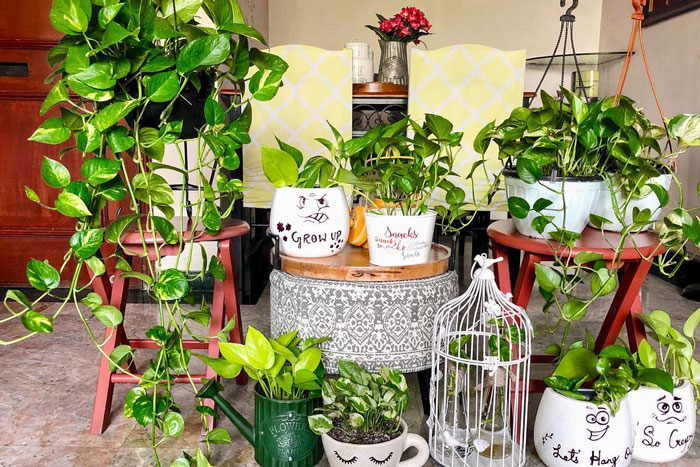 Feature Image by @plantiful_home
Nothing makes a house (or even a small apartment) feel more like a home than houseplants. But with our busy schedules and demanding jobs, sometimes we're not home enough to actually take care of them.
Luckily, there are a handful of plants out there that anyone can keep alive with just a little TLC. Check out our faves below.
View this post on Instagram
Parlor Palms
All this plant needs is a bit of indirect sunlight and light watering once a week. Plus, parlor palms are natural air purifiers so they keep your home fresh.
---
View this post on Instagram
Christmas Cactus
The cactus likes to be kept at around room temperature and only requires a little bit of direct sunlight, so a coffee table or desk is the perfect setting. Mist or very lightly water them once a week and they'll be with you year after year.
---
View this post on Instagram
Aloe Vera
These plants are incredibly easy to grow indoors. Like the Christmas cactus, aloe does best in dry conditions and doesn't need to be watered more than once a week – just keep it on a windowsill. Plus, once the aloe grows, you can cut off a stem and use the juice to moisturize your skin.
---
View this post on Instagram
Spider Plant
Spider plants have long, thin leaves that look particularly nice when grown in a hanging basket (hence, the name). Keep your spider plants hanging in indirect sunlight as their leaves can be burned by too much heat, and water them once a week just until the soil is a little bit wet all over.
---
View this post on Instagram
Pothos
If the rest of these plants still seem like too much work, the pothos plant is just for you. A kind of ivy with heart-shaped leaves, it can be seen growing in almost any condition. Pothos don't mind being kept in shadier rooms or offices and only need to be watered when the soil is completely dry.
xx, The FabFitFun Team
Want to take your green thumb to the next level? Here's how to not kill your plants.