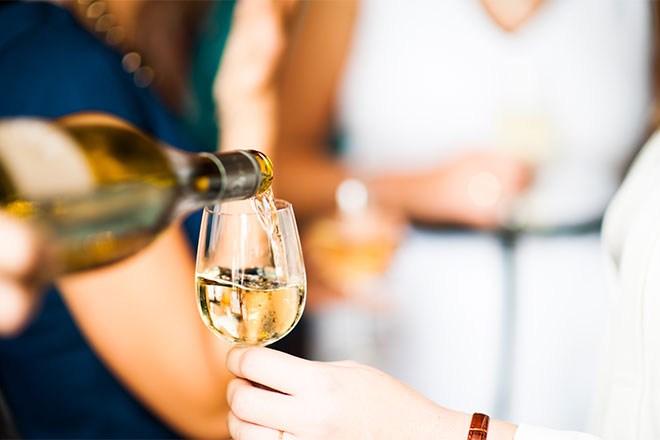 We love enjoying a good glass of wine with our gals. Who doesn't? So the next time you plan a wine night, consider hosting a wine tasting instead!
We know what you're thinking, but don't fret — hosting a wine tasting is actually very simple. Plus, you and your friends will have a chance to learn a thing or two about wines you have yet to try.
Follow the steps below to conquer your first wine tasting as a host!
Step 1: Prep the Wines 
Pick three reds and three whites. Six wines are a simple start and won't overwhelm your guests.
Reds: Pinot Noir, Malbec, and Cabernet Sauvignon. These range from light to spicy and bold so your guests will get an eclectic tasting experience.
Whites: Chardonnay, Sauvignon Blanc, and a Rosé. You'll get tastes ranging from buttery to crisp and rosé is always a fun addition — especially during the spring and summer.
Epicurious recommends planning on serving 2 ounces of wine per person. Keep this in mind when you purchase wine so you get enough for everyone! Don't forget to have some water bottles on hand so your guests can stay hydrated, too.
Print out this grid so your guests can experience the wine tasting they'll never forget (literally). It'll help your guests to remember the names of each wine and why they liked (or didn't like) particular ones.
Step 2: Prep the Food
Food for Reds: Strong cheeses, chocolate, beef, olives, and wild herbs are all amazing options to incorporate into your appetizers — your guests will be able to taste the highlights of each red.
Food for Whites: Oysters, poultry, smoked salmon, and salty foods (with the rosé) are a few items you'll want to opt for when tasting your white wines.
Step 3: Host the Tasting
It may sound counterintuitive but you'll want to start your tasting with reds, then move on to whites. Make sure your guests wipe their glasses clean between each tasting to avoid mixing tastes and varieties.
WikiHow recommends telling your guests to sip and swirl the wine in their mouth, allowing it to breathe. Then discuss what colors they see and what aromas they smell with each vino. After, take a bite of the food to fully experience the wine.
It will allow your guests' palettes to thoroughly taste the wine and understand why the particular wine and food pair so perfectly.
Have any wine tasting tips you love? Share them in the comments below!
xx, The FabFitFun Team