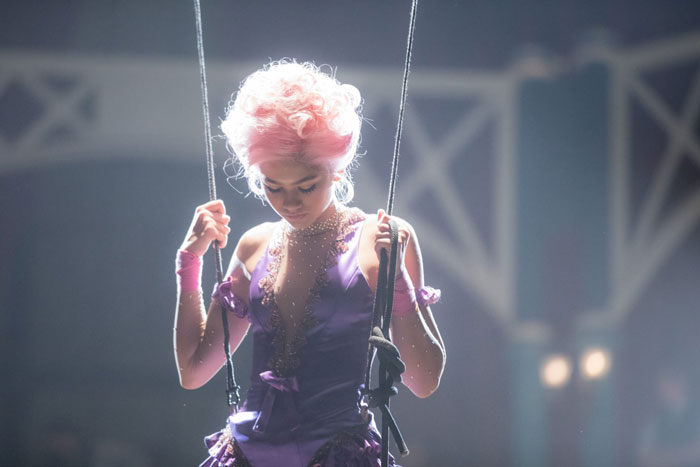 Feature Image by Greatest Showman
The 2018 Golden Globe Awards is kicking off awards season — and what better way to prepare for the big night than by binge-watching some of the most talked about movies from the past year?
We're rounding up 10 films that are up for a Golden Globe award. Which movie is going to take home the big win? Tune in January 7 at 5 p.m. PT to see if your predictions ring true.
Dunkirk
Set during World War II, Dunkirk depicts the efforts to evacuate the trapped Allied troops on the beaches of Dunkirk. The film is the highest-grossing World War II film of all time and received high praise for its screenplay, direction, musical score, and cinematography. Oh, and Harry Styles is in it (need we say more?).
---
Get Out
Directed by American actor and comedian Jordan Peele, Get Out grabbed the attention of both horror genre fans and critics alike. The story follows an interracial couple as they enter the meet-the-parents stage of their relationship. Things start to take an increasingly disturbing turn that you won't see coming.
---
The Greatest Showman
Get ready to obsess over the soundtrack that has captured everybody's hearts. Inspired by the imagination of P.T. Barnum, the original musical celebrates diversity and individuality to leave you feeling empowered.
---
The Shape of Water
With seven Golden Globe nominations, The Shape of Water follows the story of a mute cleaning lady at a high-security government laboratory in 1962 Baltimore. She discovers the lab's classified secret — a mysterious, scaled creature from South America — and develops a unique bond with the creature.
---
I, Tonya
Based on the true rise-and-fall story of Tonya Harding, the film centralizes on the 1994 assault on skating rival Nancy Kerrigan. Watch Margot Robbie transform into a role that'll make you fall in love with her even more (if that was even possible).
---
Coco
Miguel's internal battle between choosing his passion for music or family is put to the test when he accidentally enters the Land of the Dead. He embarks on an extraordinary journey to unlock the real story behind his family's history — and let's just say the ending will leave you in a sea of used tissues.
---
Lady Bird
You'll feel a rollercoaster of emotions as you watch this coming-of-age story of a high school senior and her relationship with her mother. The film has been nominated for four Golden Globe awards including Best Supporting Actress in Motion Picture, Best Actress in a Musical or Comedy, Best Musical or Comedy, and Best Screenplay of a Motion Picture.
---
The Post
Steven Spielberg directed this star-studded film featuring Meryl Streep and Tom Hanks. The story is based on Katharine Graham, the first female publisher of a major American newspaper, The Washington Post and follows the story of how she risked her career to shed light on long-buried government secrets.
---
Call Me by Your Name
This romantic coming-of-age drama is based on the 2007 novel of the same name by André Aciman. When 17-year-old Elio Perlman visits his family's 17th-century villa in Lombardy, Italy, he meets Oliver, a handsome doctoral student and develops a relationship he never expected.
---
Battle of the Sexes
Relive the most-watched sports event of all time. Directors Jonathon Dayton and Valerie Faris perfectly capture the 1973 tennis match between Billie Jean King and Bobby Riggs (played by Emma Stone and Steve Carell).
xx, The FabFitFun Team