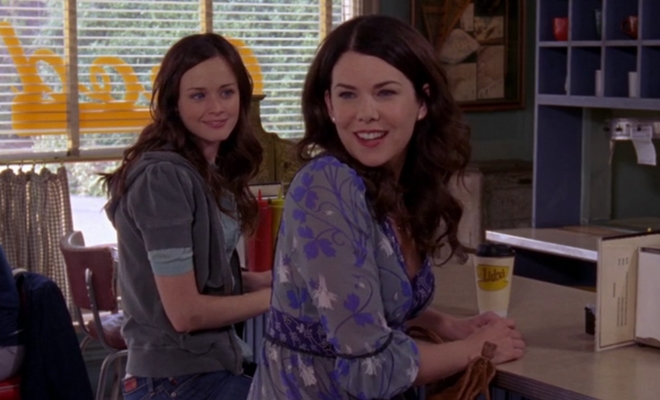 We knew the witty mother-daughter duo would hold a special place in our hearts from the moment we met the coffee-obsessed Lorelai and the book-obsessed Rory.
We've cherished following the Gilmore Girls' journey for seven seasons and watching their relationship develop with each other while getting immersed into the kooky town of Stars Hallow. And now that we get to return to Stars Hallow for more burgers at Luke's and Friday night dinners, we couldn't be more excited!
But before Gilmore Girls: A Year in the Life airs on Netflix on Nov. 25, make sure to catch up on some of the best episodes of Gilmore Girls!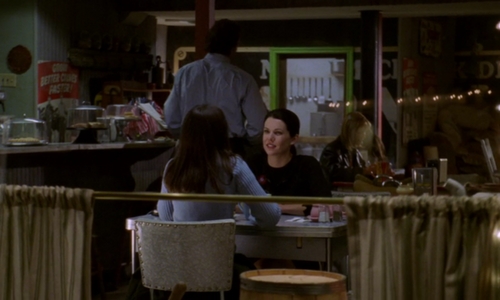 Season 1, Episode 1 Pilot
The very first episode not only reveals the extraordinary relationship between Rory and Loreai, but it also sets the stage for the entire series. Rory gets into the prestigious Chilton, leaving her best friend Lane and new flirtation, Dean, behind. And of course, there's the tumultuous but wonderful relationship between Rory and Lorelai with Lorelai's parents, Emily and Richard.
---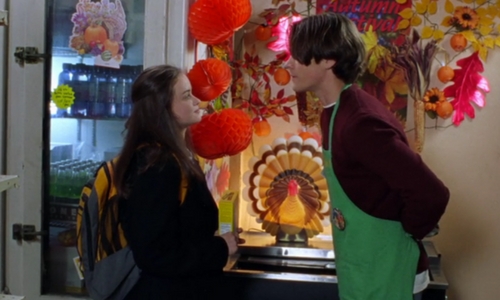 Season 1, Episode 7 Kiss and Tell
Dean kisses Rory in the supermarket, and Rory is so excited she accidentally shoplifts the box of cornstarch that's in her hand. Dean comes over to watch Willy Wonka with Rory and Lorelai, which marks the beginning of a long-lasting relationship.
---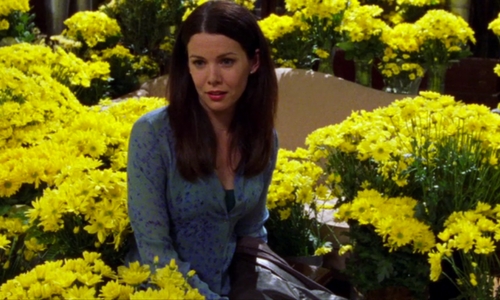 Season 1, Episode 21 Love, Daises and Troubadours
Rory finally tells Dean she loves him back, and they rekindle their relationship. In a romantic gesture, Max sends Lorelai 1,000 yellow daises and asks her to marry him. She accepts in the first episode of Season 2.
---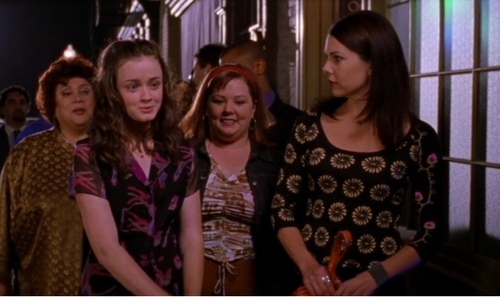 Season 2, Episode 3 Red Light on Wedding Night
Emily's romantic story of wanting to wear her wedding dress every night before she married Richard causes Lorelai to have second thoughts about marrying Max. Though Luke ends up supporting Lorelai's wedding by making her a marriage chuppah, Lorelai decides not to go through with the wedding at the very last minute.
---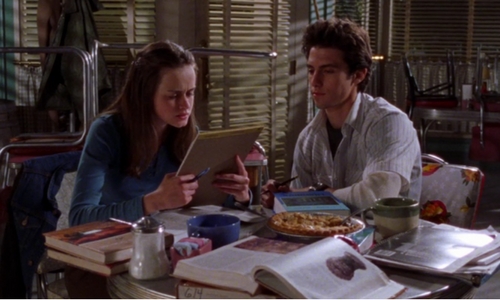 Season 2, Episode 19 Teach Me Tonight
In a tutoring session gone very wrong, Rory and Jess are in a car accident. Rory fractures her wrist, and Jess leaves Stars Hallow. The town, of course, goes crazy with hatred for Jess. Though rife with anger, the episode also treats fans to the weirdest short film in the history of short films made by Stars Hallow's weirdest resident, Kirk.
---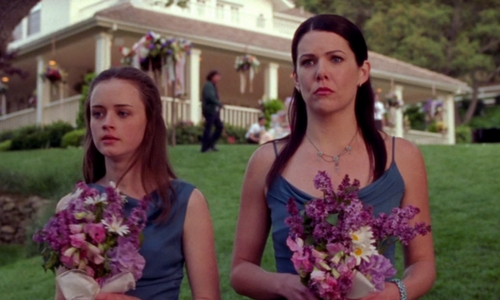 Season 2, Episode 22 I Can't Get Started
This episode contains a lot more than the origins of the phrase "Oy with the poodles already." Paris and Rory are elected to student government, which means they'll be spending the summer in D.C. Before Sukki's wedding, Rory kisses Jess and Lorelai sleeps with Christopher. Just when Chris and Lorelai think they're headed into a relationship, Chris finds out his girlfriend is pregnant, and this time, he's going to be a committed father.
---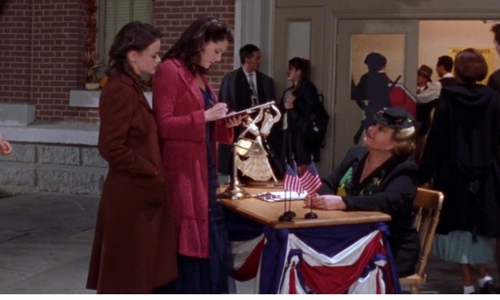 Season 3, Episode 7 They Shoot Gilmores, Don't They?
The 24-hour dance marathon, yet another fundraiser, takes over Stars Hallow, and Lorelai is determined to win. With Rory as her partner, Lorelai thinks she can't lose. However, when Lorelai goes to get her shoe fixed and leaves Rory with Dean, Dean breaks up with Rory in the middle of the dance floor. Kirk wins the dance marathon again.
---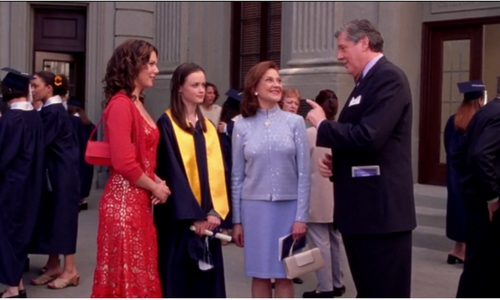 Season 3, Episode 22 Those Are Strings, Pinocchio
Rory graduates from Chilton as valedictorian and is Yale bound. During the ceremony, Rory's moving speech is a testament to not only how much she values books and her family, but also how far the show has come. In just three seasons, the residents of Stars Hallow feel like family, and we can't wait for more.
---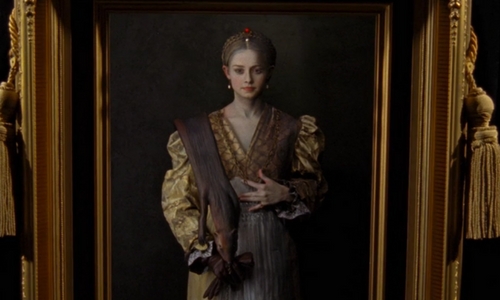 Season 4, Episode 7 The Festival of Living Art
Stars Hallow presents the Festival of Living Art! Lane and the band test out lead guitarists and find the perfect match. Alas, Hep Alien is born. Lorelai and Rory strike a pose in famous paintings for the festival right before Sukki's baby pager goes off during Lorelai's turn on stage.
---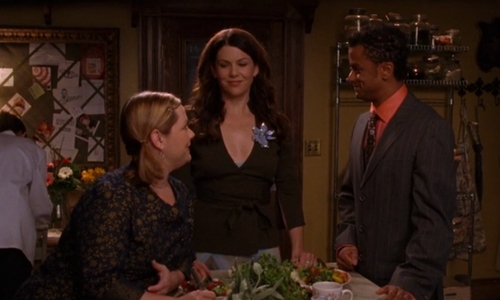 Season 4, Episode 22 Raincoats and Recipes
As much as we love the two proceeding episodes (one where Luke gets a self-help workbook to help his love life and one where Luke and Lorelai attend Liz's renaissance wedding), this episode is one of our favorites. It's the Dragonfly's test run, and we can't get over everything that happens. Kirk runs naked through the inn, Luke and Lorelai kiss, and Rory sleeps with Dean.
---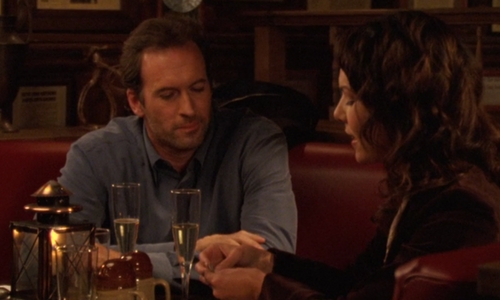 Season 5, Episode 3 Written in the Stars
When Luke and Lorelai first met, she gave him a horoscope which he kept in his wallet for 8 years — and he reveals this to her on their first date. The relationship we've wanted for four seasons finally begins! Despite wanting to keep their relationship quiet, Lorelai accidentally reveals their relationship to the entire town when she walks into the diner wearing nothing else but Luke's plaid shirt.
---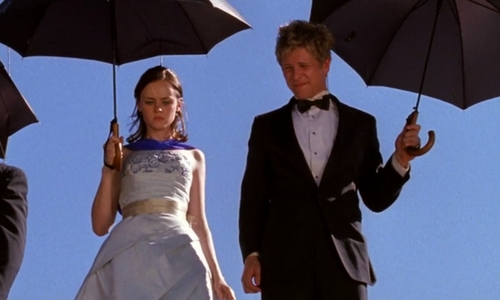 Season 5, Episode 7 You Jump, I Jump, Jack
To investigate the exclusive Life and Death Brigade club for her newspaper article, Rory goes with Logan to an unknown location to get the inside scoop. The chemistry between Logan and Rory is clear, and everyone knows a relationship is on its way.
---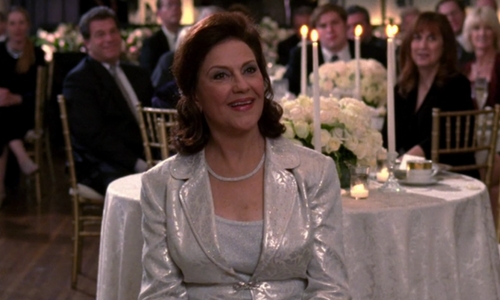 Season 5, Episode 13 Wedding Bell Blues
To commemorate their reconciliation, Emily and Richard host a vow renewal. Lorelai is the maid of honor and Rory is the best man. Though the celebration is lavish, it doesn't turn out as everyone hopes. Lorelai walks in on Rory and Logan hooking up. Christopher shows up in hopes of convincing Lorelai that they are made for each other. Luke decides he needs to take time to think about his relationship with Lorelai.
---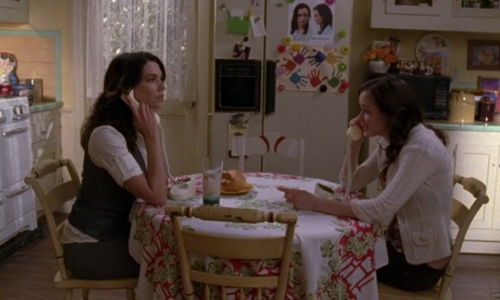 Season 5, Episode 22 A House is Not a Home
This episode is full of shockers, including Rory getting arrested, Rory deciding she's going to quit Yale and move in with her grandparents, and Lorelai proposing to Luke. As much as we love a Luke and Lorelai engagement, this starts Rory's downward spiral that's difficult to watch.
---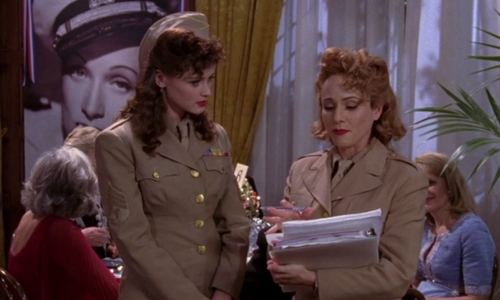 Season 6, Episode 5 We've Got Magic To Do
This episode explains Luke's dark day, shows us the musical talents of Miss Patty's students, and cements Rory's position as an integral DAR member. Though Rory plans a successful benefit, Richard realizes Rory should be at Yale, not planning parties.
---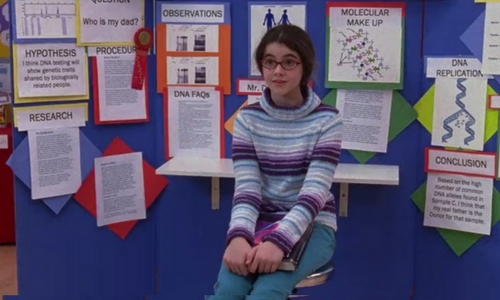 Season 6, Episode 9 The Prodigal Daughter Returns
Rory is back in school, gets a new job, and is reunited with her mother. Everything seems great, but Luke just found out he has a daughter and hasn't told Lorelai. Enter one of the most controversial characters on the show: April.
---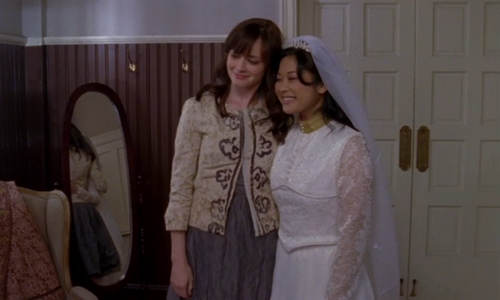 Season 6, Episode 19 I Get a Sidekick Out of You
Lane and Zack have two weddings and throw a rockin' party in the town square to celebrate. Influenced by many emotions and lots of tequila, Lorelai makes a drunken toast lamenting that she'll never get married.
---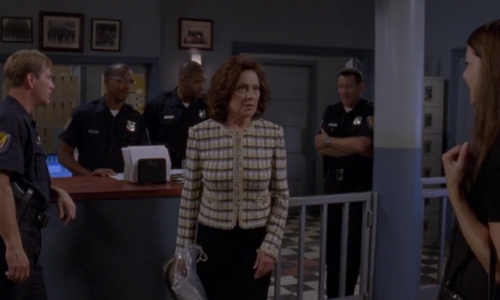 Season 7, Episode 4 'S Wonderful, 'S Marvelous
Now that Lorelai is dating Christopher, things seem to be going well. They have an amazing date night – guys everywhere, take note – where Christopher creates their own private drive-in movie experience. And how could we forget the part where Emily gets arrested?
---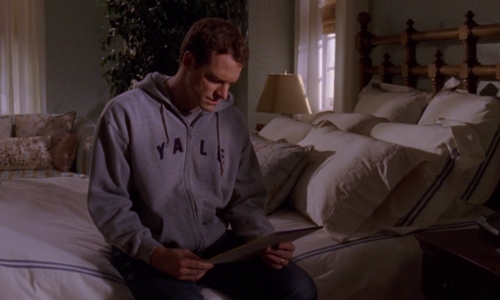 Season 7, Episode 12 To Whom It May Concern
Lorelai writes a moving letter as Luke's character reference so that Luke can win partial custody of April. Chris finds the letter and realizes that their marriage isn't as solid as he thought. At Yale, Richard has a heart attack while teaching a class and is rushed to the hospital.
---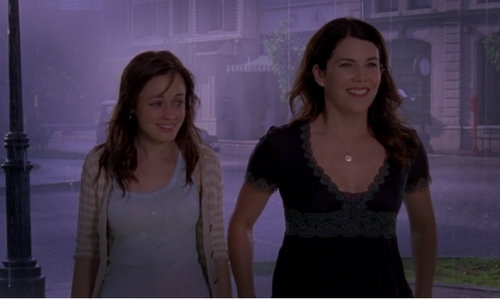 Season 7, Episode 22 Bon Voyage
The final episode of the series is full of heartwarming moments that represent all the love and laughter of all seven seasons. As Rory graduates from Yale, she faces the world on her own. Though she's turned down Logan's marriage proposal, Rory unexpectedly gets a new job following Obama's campaign and will immediately leave Stars Hallow. The final moments of the series take us through a fun surprise party for Rory, Luke and Lorelai getting back together, and, of course, one last cup of coffee at Luke's.
xx, The FabFitFun Team