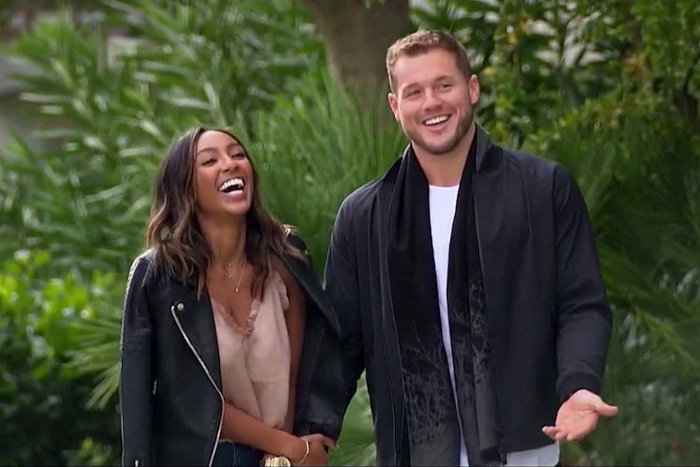 Feature Image by @tayshiaaa
We know you've heard this time and time again, but last night's episode of The Bachelor really was the most dramatic one to date. Seriously, Colton Underwood brought a whole new world of emotions, and it was painful to watch. Plus, with Underwood's virginity being a focal point of the season, there was clearly a lot of pressure leading up to the Fantasy Suite (the episode where the bachelor spends an intimate night alone with each contestant).
First up, Tayshia Adams. The couple's previous dates consisted of bungee jumping and skydiving, so it was only right that the couple took to new heights in a romantic helicopter ride overlooking the Portugal coast.
View this post on Instagram
Adams and Underwood's day was followed by dinner where Adams shared that her previous marriage ended due to her ex-husband's infidelity. Underwood eventually invited Adams to the Fantasy Suite, but they didn't seal the deal (if you know what we mean). Adams was definitely disappointed and confused about his hesitations, but respected his decision to wait. The morning after seemed a bit awkward, and Adams described their night together as "interesting," which typically translates to "not good."
The second date went to Cassie Randolph who's been a front-runner since the beginning. The two went sightseeing in the town of Algarve, but just when we thought it was going well, Underwood spilled the beans about his inability to get the blessing from Randolph's father.
View this post on Instagram
The news basically sent Randolph into a wave of panic as she's extremely close with her family and takes their judgment to heart. When Randolph got back to her hotel room, she was surprised to find that her dad had flown all the way to Portugal to basically tell her he thinks she's making the wrong decision to stay because he (and the rest of us) can tell she doesn't really love Underwood the way he's obviously in love with her.
Randolph ultimately decided it was in her and Underwood's best interest to go home, but when it actually came time to end the relationship during the dinner portion of the date, she couldn't seem to make up her mind and say goodbye. Underwood was shocked to hear her concerns and confessed that he was totally in love with her and expressed that she was the one he wanted to be with at the end of this journey (um…is he allowed to say that?). However, it wasn't enough to convince her to stay.
View this post on Instagram
Then came the moment we were waiting for all season long – the fence jump. Underwood freaked out after getting dumped by the woman who he thought was the one and proceeded to punch the camera and jump a 10-foot fence (with uncanny athleticism, we might add) into the darkness of the Portuguese wilderness. Chris Harrison and the producers chased after him and kept calling his name, but Underwood was nowhere to be found. Of course, we were left hanging at the end of the episode with no explanation as to what happened next. It's safe to say next week's finale is bound to leave us in shock.
View this post on Instagram
Luckily, we have the Women Tell All special airing tonight on ABC to hold us over until Underwood's dramatic (and possibly unsuccessful) end of his journey to find love. Rumor has it that the Women Tell All is unlike any we've seen before, and considering some of the cast members' unapologetic personalities from this season, we believe it.
Will you be tuning into The Bachelor finale? Play these fun drinking games during your viewing party.
xx, The FabFitFun Team