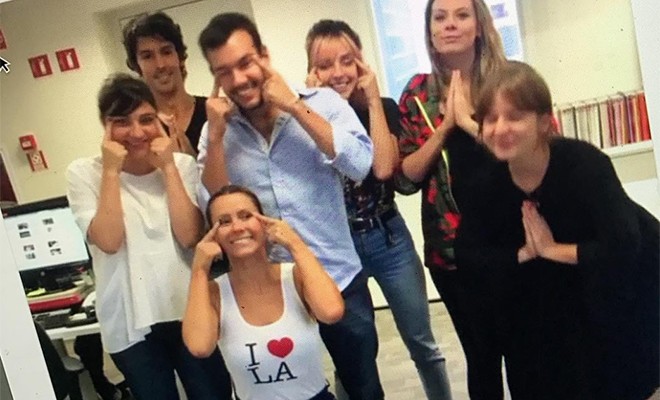 Glamour Brasil is under fire for posting an offensive photo on its Instagram (which has now been deleted).
The photo, which was posted to promote their upcoming"Glamour in Japan" project, featured a handful of editors posing with "bowed hands or pulling their eyes at the corners to create a slanted shape," which was clearly imitating Asian features and Asian culture.
The photo was taken down on Friday, however, blogger @bryanboycom posted the photo on his Instagram account and criticized the editors. He said, "Before posting slitty eye jokes, maybe you should educate yourselves that your salaries are (mostly) paid for by the same slitty-eyed ASIAN shoppers you mock who buy luxury goods from (mostly) white brands who advertise on your publication."
Glamour Brasil issued an apology soon after: 
Dear readers, Once again we would like to apologize about the post regarding the team's trip to Japan. We've posted our excuses in Portuguese a few days ago, as soon as we realized our mistake, and now we are doing it in English. Our intention was to celebrate a fashion trip to Japan, a country we have always dreamed about. We had absolutely no intention to offend. As soon as it came to our attention that it was considered a racist act, we deleted the post and published an apology in Portuguese. We are deeply sorry we have offended the Asian community and other followers. Glamour Brasil has always been known by its diversity and this episode has taught us a lot. We will be more careful and sensible to avoid misunderstandings. Please rest assured that your voices were heard. Sincerely, Glamour Brazil team
What are your thoughts on this controversial photo? Weigh in on the comments below.
xx, The FabFitFun Team