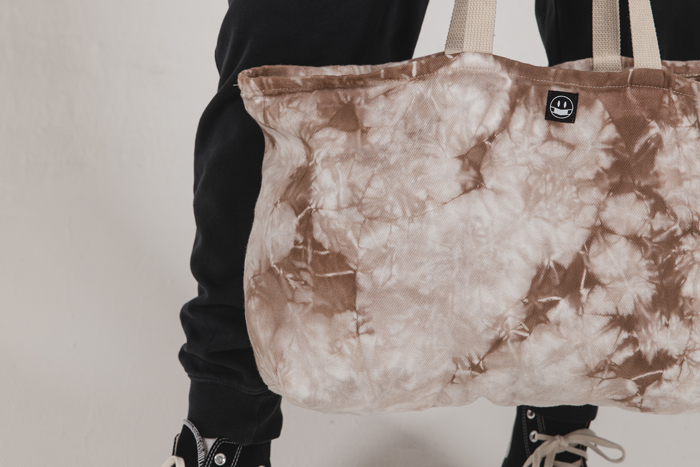 We are all about easy gifting during the holidays. Finding that special something for that special someone in your life doesn't mean you have to break the bank, right? The holidays are more about spending time with those who are most important to you, and the gifts are just an added bonus to an already pretty sweet situation.
If you're not sure what to give some of the people in your circle of trust, your crew, your ride-or-dies — do not worry. We're offering some affordable and easy gifts for just about every type of person in your life.
P.S. Keep reading 'til the end of the gift guide for an exclusive discount on the products below (wink, wink).
For the mom that has everything

Let your mom know how much you appreciate her this holiday season with a gift that makes her smile. Reuse Masks' Storm Smiley Bag is perfect for anyone who has everything. Reuse Masks began as a solution to a troubling pandemic, and since then has continued to put smiles on people's faces while still covering them up. The tote is made of soft, durable cotton twill and is essential for carrying around literally anything and everything.
---
For the low-maintenance sister

The low-maintenance sister is hard to shop for because she's super chill. She claims she'd be happy with anything but you never know. In this case, a Yellow Smiley Cap from Reuses Masks will satisfy her need to keep it cool, casual, and fun. New to their collection, this beanie is sure to put a smile on her face.
---
For the best friend who loves to match

We all have that one friend who lives for the matching game. Every outfit is an opportunity to play with their wardrobe and test the limits, and the Soul Mask will let them do just that. Each mask is sustainably crafted with care in Los Angeles, reimagined with extremely soft deadstock fabric. This mask comes in eight different colors so your BFF can match whenever, wherever.
---
For your coworker with a wild side

We all have that friend that's a little wild. You know, the one who runs with the wolves. For them, something simple like this Pucker Up mask will match their ferocious energy. It's adorned with a subtle red smooch and is sustainably made with ultra-soft deadstock fabric. Soul Mask's mantra is about being the mask that moves with you, while also being a representation of who you are — so we can't think of a more fitting mask for someone with a unique personality.
---
For the kiddo that loses their mask

If you're looking for something easy for your niece or nephew, cousin or sister, look no further. Buying them a fun, soft, and sustainably made mask is perfect. Adding another one into their daily rotation will make it easier for them to stay healthy and stylish.
---
For the dad who loves a good dad joke

The Don't Be A Maskhole is ideal for any dad who loves to crack a punny dad joke. He's the guy that doesn't want to call out but will — and he'll do so with this secret weapon: humor. This eco-friendly product is super easy to breathe in and comfortable to wear, making it a staple for any cool dad.
Ready to snag these gifts for your loved ones? FabFitFun members get 25% off the Smiley Collection at Reuse Masks and 25% off any face mask at Soul Mask.
If you're not a member yet, use code GOODIESGALORE for 20% off your first box, and to access member-exclusive sales, exclusive fitness and cooking content on FabFitFunTV, and tons more perks.
xx, The FabFitFun Team