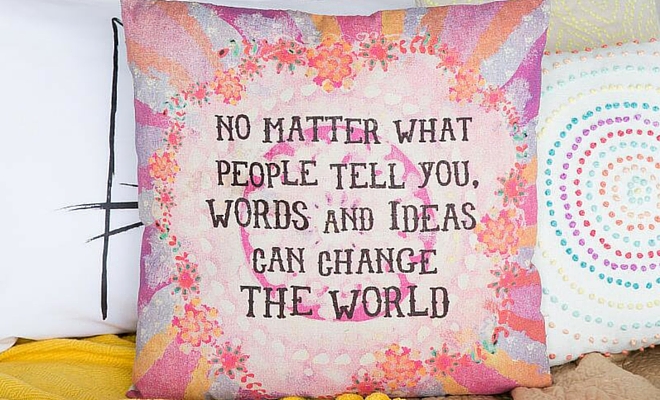 Writers live in a world of books, words, and ideas — they're always thinking and always creating! So why not appreciate the writer in your life and gift them with any of the uh-mazing products below.
We promise they'll be ub-sessed and it might even help them with their occasional case of writer's block!
Container Store Calhoun Artisan Journal $11.99
Whether it's used for writing on-the-go or to jot down potential story ideas, this notebook is going to become a favorite. It lays completely flat to make writing easier and maximize writing space.
---
Verrier Boutique A True Love Story Never Ends Small Print $35
You don't have to be a romance novelist to appreciate this print. At some point, every writer has fallen in love with their craft and knows that their passion for it is unbreakable.
---
Lo & Sons Seville Tote 15" $448
Being a writer can sometimes mean lugging your laptop and notebooks around so give the gift of style and convenience with this gorgeous bag. Even though it can hold a 15" laptop, this bag can easily hold all your other essentials, too. Plus, the outer shell is removable so you can swap it out with other colors and designs.
---
Anthropologie Stories For My Child $16.95
Know a writer who has a bundle of joy on the way? Give her this book so she can record all her memories as well as some thoughts for the future.
---
Virginia Woolf: A Writer's Diary $16.95
Go inside the mind of the famous writer with this book which includes personal records, writing exercises, and observations that span over 27 years of Woolf's life. It may inspire your writer to start a similar journal of her own.
---
Rifle Paper Co. Floral Assorted Writing Pencils $12
Some writers prefer to record their stories the old-fashioned way — with pencil and paper. Switch out your writer's plain yellow pencils with these garden inspired pencils to add some flair to their writing.
---
Moleskine Smart Writing Set $199
Writing with pen and paper can be a wonderful feeling, but typing out a copy from hand-written notes can be tedious. This notebook changes all that, though. The Pen+ knows which pages you're writing on, records the information as you physically write, and sends a digital and text copy to the app.
---
New York Public Library George Eliot Mug $12.95
Some writers find their voice later in life or just need a quick nudge of inspiration. Every time they reach for this coffee cup, they'll be encouraged to follow their dreams. Now that's a true pick-me-up!
---
MochiThings: Kraft Typewriter Sticky Note $5.95
A writer never knows when they'll come up with a brilliant idea, so it's always a good idea to keep some paper nearby. These sticky notes come in an adorable typewriter box for a nostalgic writing touch.
---
Francesca's Words & Ideas Change the World Bungalow Pillow $38
All writers fear that no one will ever feel an impact from what they've written. Remind them that the words they write can actually influence those around them with this cheerful pillow. They'll thank you for the words of encouragement.
---
Anthropologie 642 Things To Write About $16.95
Writer's block is the worst! Help your writer get the creative juices flowing with this book of 642 prompts. Even if they never use these exercises in their work, they'll appreciate the opportunity to give their imagination a good workout.
---
Process: The Writing Lives of Great Authors $14.95
What works for one person doesn't always work for another — and the same is true for the writing process. By learning about the methods of some of the greats, a writer may be able to come up with what works best for them.
xx, The FabFitFun Team