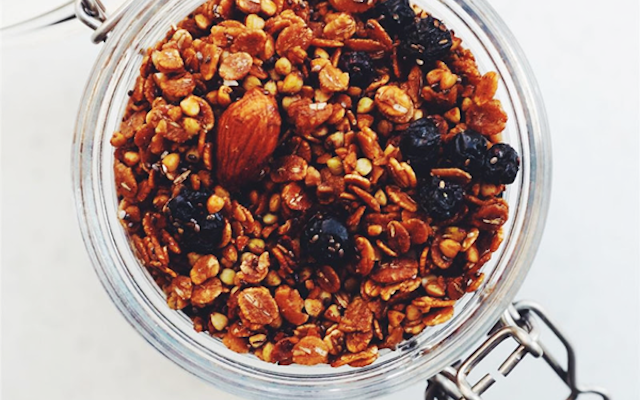 Nothing says "Good morning" like the scent of freshly baked granola right out of the oven. When blueberry, honey, vanilla, cinnamon, and crunchy whole grains intermix, you know it's gonna be a good day!
Top this yummy granola over your yogurt, in a bowl of milk, or even pack it to go for those necessary snacking moments! The best part is, it's super easy to make, and even healthier to eat! The cooks over at SideChef were able to give us this fab granola recipe, and apparently it's one of their personal faves. Head to their site to check out all of their uh-mazing recipes you can get on the go!
Blueberry Buckwheat Granola
Ingredients
180 gram rolled oats
1 cup raw buckwheat groats
1 cup dried blueberries
143 gram raw almonds
¼ cup cinnamon
½ cup raw honey
80 milliliter coconut oil
2 tsp vanilla extract
¼ tsp sea salt
¼ cup chia seeds
Directions
1.Preheat oven to 350F.
2. In a large bowl, stir together rolled oats, raw buckwheat groats, dried blueberries, raw almonds, chia seeds, and cinnamon.
3. Melt raw honey, vanilla extract, coconut oil, and sea salt in a saucepan over low heat until melted, about 4-5 minutes. Pour warm mixture over the dry ingredients.
4. Toss to evenly coat.
5. Spread the mixture across a non-stick or lined baking sheet. Bake for 15 minutes.
6. Using a spatula, toss the mixture and bake another 8-10 minutes or until the granola just begins to color.
7. Remove the pan from the oven and let the mixture cool completely.
8. Store the granola in an airtight container or mason jar and serve with milk or yogurt of your choice.
xx, The FabFitFun Team