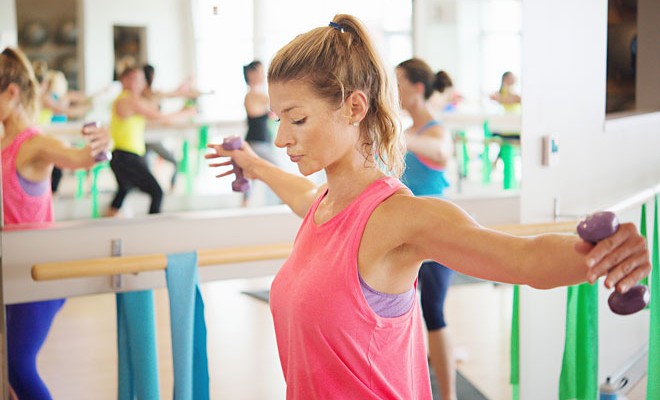 Working out is hard; let alone finding the time to do it and a workout buddy to keep you accountable.
That's where Fusion Fitness comes in. They offer 30-minute (or less) results-driven routines to challenge your entire body while bringing the energy of a group fitness class right into your living room. Each workout combines high-energy cardio and muscle-building moves, which elongate your muscles, decrease body fat, improve cardiovascular endurance, and increase flexibility or, in other words, get your body and mind into the best shape ever (like, ever).
And because everyone deserves to look and feel their best, we partnered with Fusion Fitness to bring six of their globally sold Sweat Lab Series to FabFitFunTV. From videos like "Hustle HIIT" and "Dream Booty," you're guaranteed to work up a sweat.
Check out what the founder of Fusion Fitness, Darby Bender, had to say about her one-of-a-kind workout approach, the inspiration behind the fitness brand, and why Fusion Fitness will make you fall in love with fitness again.
What makes your workout method unique?
Our method uses functional fitness and very little equipment. We focus on muscle-specific and toning exercises to really feel the burn and also include high-pace inviting events to keep your heart rate pumping. This method allows for muscle-toning while reaping all the benefits of cardio.
What are people most surprised about when they first try your workout?
Most people are surprised by how much they like the workout and how challenging it is. People often express how addictive the energy, the music, and the support they get from the group is.
What should a first timer be prepared for when trying your workout?
These workouts are challenging and advanced. They should be prepared to work hard, but also allow themselves to make modifications when needed.
What's your favorite part about helping people get to shape?
My favorite part about helping people become more fit is to see their emotional well-being increase. To watch smiles become bigger, laughs become louder, and positivity vibrates higher…that's the best part about helping people get in shape!
Any client success stories?
In conjunction with our studios and on my workouts, we also have a weight loss boot camp. We've had women lose up to 60 pounds in just 12 weeks by making necessary lifestyle changes, eating healthy, and exercising often. But the success didn't end on the scale — success continued on with healthier relationships, more meaningful occupations, and better quality time with family.
How do you motivate yourself to work out when you're not in the mood?
I always remind myself of how much better I'll feel when I'm done. I treat my family better, I treat my coworkers better, and I also treat myself better after a good workout.
Four reasons why FabFitFunTV members should try your workout:
1. The workouts are fun and extremely effective.
2. The exercise moves are always unique and change often, avoiding your body's ability to create muscle memory and increasing your opportunity to gain results.
3. These workouts are 30 minutes and under, making them easy to fit in a busy schedule.
4. You will see change and definition in your body like never before and find muscles you didn't even know you had.
xx, The FabFitFun Team