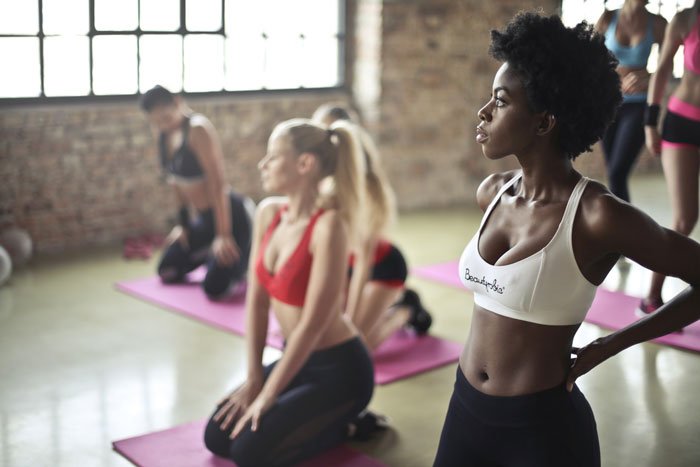 Feature Image by Bruce Mars
Starting an exercise routine can seem overwhelming, especially if you don't know where to start. Fortunately, you don't need to hire a personal trainer in order to find an exciting new workout. Fitness apps are a great way to try new routines, receive advice from professionals, and track your progress.
There are a ton of options out there, so to narrow it down, we asked fitness bloggers to share their favorite apps!
Strava
If you're a runner, you'll want to check out Strava. Heather Hart of Relentless Forward Commotion said it's her favorite app, explaining, "You can track your own runs/rides and share pictures from your workout for your friends/followers to see." You can also cheer on other athletes and earn badges. She added, "It's a great place to not only log your own mileage but [also] have a little bit of friendly competition to keep you motivated."
Seconds Pro
Doing interval workouts require a timer, and Seconds Pro makes that really simple. Rachel MacPherson of Radical Strength said she loves it because "the app allows you to set custom timers for HIIT, Tabata, or to help keep pace with your tempo when weight lifting." You can save timers for future use and integrate music. She added, "No need to keep an eye on your phone, you'll hear the signal to switch exercises or start a rest period."
Athex
Exercising when you're traveling can be a big struggle, especially when you aren't sure how to adjust your routine. Christine Parizo of Run Out Of The Box loves to use Athex when on-the-go, explaining, "I can input what equipment I have (dumbbells, a jump rope, or nothing at all) and it will give me a workout to do based on what I've input."
Sweat
Looking for a scheduled, no-nonsense routine to follow? Check out Sweat. Lucile Hernandez Rodriguez swears by it, saying, "The workouts really pack a punch." The app has a program for every fitness level, and the Kayla Itsines program is under 30 minutes with little equipment. Rodriguez said, "This app is perfect to build a workout habit."
My Fitness Pal
For nutrition and workout tracking, MyFitnessPal is on point. Kate Horney of Beyond Fit Mom said, "MyFitnessPal gives you a wealth of tools for tracking what and how much you eat, as well as how many calories you burn through activity." She loves it because it's easy to use and has a really large database of foods and drinks.
HASfit
The app makes you feel like you have a personal trainer in your home. That's one reason Rachelle Strauss of The Health and Wellness Grid loves it. She explained, "The presenters really make you feel like you're in the room with them." She also noted that they have workouts as fast as three minutes for days when you're busy and something for every fitness level. She added, "I love that it's so inclusive."
Nike Training Club
If you aren't sure what workout to do, try Nike Training Club. Erika Lee said, "The days when I don't feel like designing my own circuits or am short on time, I use [it] to just select a workout based on my time and body parts I need to hit."
xx, The FabFitFun Team