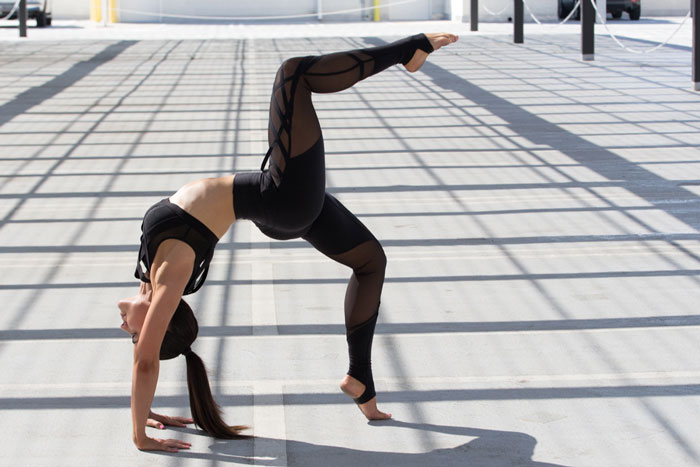 SPRING 2019 FABFITFUNTV PARTNER
Whether it's hot yoga, yoga sculpt, or vinyasa, yoga has been a popular form of exercise for its physical and mental benefits. But like with any exercise, it can be intimidating if you've never tried it.
How should you prepare for your first yoga flow? What the heck is vinyasa? We chatted with Frances Flores, a former professional dancer turned yogi, to break down everything you need to know below.
What are the benefits?
In addition to relieving stress, tension, and anxiety and detoxifying your body from the inside out, yoga also helps build lean muscles and improve body mobility and flexibility. "In that process, as we breathe and move our bodies, it forces us to connect with parts of ourselves that we might let go of or forget about when we're moving through our fast-paced lives," says Flores.
What's the difference?
Although most yoga workouts are similar in that it encourages you to move your body while connecting to your breath, each kind of yoga practice varies in its specific method.
Vinyasa Flow: Flores calls her vinyasa flow workout a "strong, but stretchy feel-good flow – moving through a sequence and repeating it so you get the opportunity to strengthen your body while gaining flexibility."
Yoga Core: Yoga core has postures you will find in vinyasa and power yoga classes, but Flores chooses a select few for her workouts that focus on the core.
Yoga Sculpt: This type of yoga class is similar to vinyasa flow, but it moves a little faster. "With the addition of a few more bodyweight exercises as well as lighter weights, it's more of a strength-based workout," says Flores.
How do you choose?
"The best way to find the type of class that works for you is by trying as many different classes as possible and as many teachers as possible until you find one you connect with," suggests Flores. "If you like to move your body a lot and have creative sequences that might change week after week, then vinyasa is your class. If you like the consistency of having the same routine week after week and enjoy a very hot room, then a hot yoga series might be for you. If you're looking for a slower-paced class that focuses more on stretching and finding stillness, then maybe a yin or restorative yoga class is your class. It is definitely a process of trial and error."
How should you prepare?
Go into it with an open mind and an eagerness to learn something new. No judgments and no expectations," says Flores. "I recommend having a block or two as well as a strap in addition to the yoga mat, and if you're at home and don't have blocks, you can use sturdy books and a towel for a strap. Take it slow at first, and don't feel the need to do everything perfectly the first time you're trying it. The more you do it, the more natural it will feel. So start slow, have fun with it, and explore what your [body is] capable of!"
Ready to get your flow on? Head on over to FabFitFunTV now to try some of Flores' exclusive workouts. From 15-minute core exercises to 30-minute energizing flows and simple yoga stretches, you'll be a seasoned yogi in no time. If you're not a member yet, sign up today!
xx, The FabFitFun Team