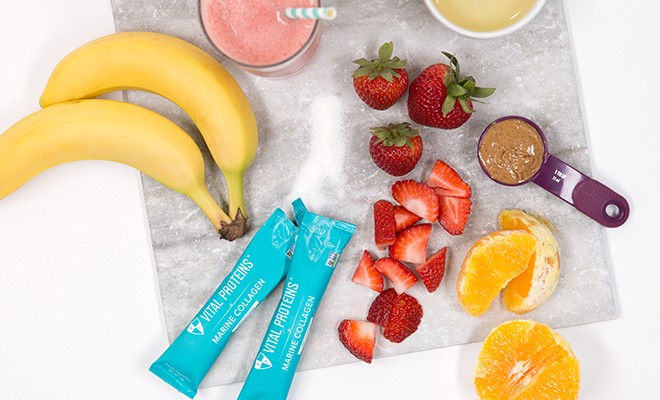 Sponsored by Vital Proteins©
If you want to feel good from the inside and out, turns out, the secret to glowing skin and a healthy bod is simpler than you think: it's all about collagen. Not only does collagen work from within to naturally enhance your skin, hair, and nails, it also helps your joints, immune, digestive, and central nervous systems — it's basically a powerhouse of beauty and health benefits.
But due to modern food-processing, most of us don't get the proper amount of this essential nutrient, and as we age, collagen production beings to slow down — that's why it's essential to incorporate it into your everyday.
Our favorite collagen supplement? Vital Proteins Marine Collagen. It's responsibly sourced from wild-caught snapper and just one serving gives us 10 grams of natural collagen and 9 grams of clean, quality protein needed to take our beauty and body to the next level.
The Vital Proteins powder is also flavorless, making it easy to add extra nutrition to your daily diet from water and juice to recipes and baked goods. But we prefer it mixed in with a smoothie! Starting your day with a delicious blend of vitamin-C packed fruits, omega-3 fatty acids, and powerful marine collagen gives you everything you need to combat the signs of aging and keep you looking and feeling your best.
Try our go-to smoothie below and get ready to glow!
Vital Proteins© Fountain of Youth Smoothie
Ingredients
1 serving Vital Proteins Marine Collagen
2 overripe bananas
1 cup stemmed strawberries
1 peeled orange
1 tablespoon almond butter
1 tablespoon ground flax or flaxseed oil
3/4 cup ice
1 cup water
Directions
1. Combine all ingredients except for Marine Collagen in blender and blend until smooth.
2. Add in Marine Collagen and blend again until collagen is dissolved.
3. Serve immediately.
Oh, and because we love you so much, we've included a pack of this magical stuff in every FabFitFun Summer Box for you to try — so snag your box today! Or get 20 percent off your Vital Proteins purchase on vitalproteins.com. Use code VITALxFFF.
xx, The FabFitFun Team