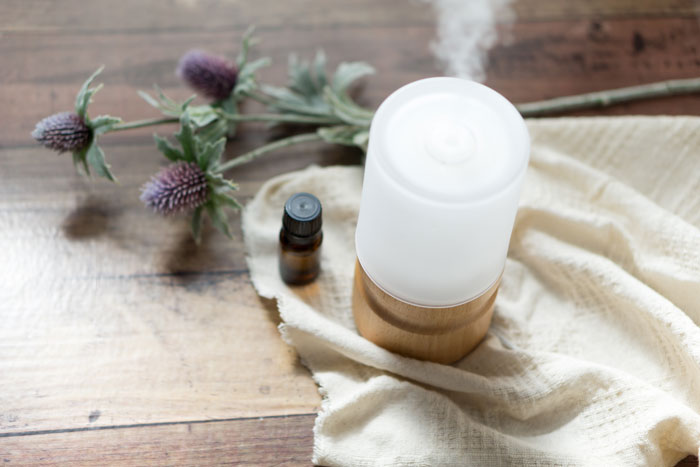 Aside from making your space smell like a spa, diffusers have tons of health and wellness benefits you probably didn't know about. Essential oils have the ability to elevate your mood, calm your nerves, and even help you sleep. The best part? Unlike a candle, you can diffuse them all through the day or night!
And guess what? Turns out, there are a few tweaks you can make to your diffusing ritual to really reap all of the benefits. We're sharing our tips below:
Use the right kind of water
Be sure to read the instructions for your diffuser for the best results. Most diffusers work best with room temperature tap water because it contains natural minerals that help the oils diffuse into the room. Additionally, it's important to not overfill your diffuser.
Be thoughtful about placement
Though it might not seem important, where you put your diffuser can make a big difference. If you're using your diffuser in a small room (like a bedroom), a smaller diffuser on your bedside table should do the trick. A larger room may need a more powerful diffuser, and it should be placed in an open area away from windows and fans. Alternatively, you can use two smaller ones.
Try different combinations
Different oils have different effects, so definitely switch up the ones you use. For instance, lavender is very calming, so it's great to use at bedtime, but lemongrass and tea tree are very invigorating and best for energizing in the morning. Click here for different combinations you can play around with for various effects.
Keep it clean
Essential oils can corrode and end up ruining your diffuser if you don't clean it properly, so clean it with vinegar every few weeks. Fill it halfway with clean water, add about 10 drops of white vinegar, and let it run for three to five minutes. After, dump out the water and clean it out with a cotton swab or cloth. Lastly, rinse well and wipe out any excess water. In addition to deep cleaning your diffuser, you should be rinsing and wiping your diffuser after each use.
xx, The FabFitFun Team