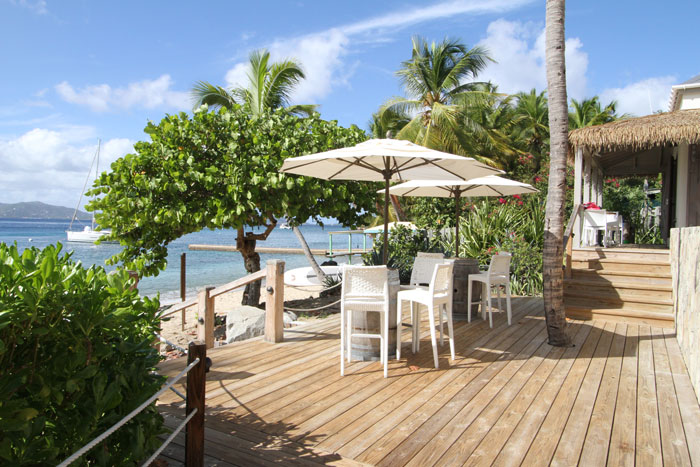 SPONSORED BY BVI TOURISM & COOPER ISLAND BEACH CLUB
Of all the places to take our next vay-k, the Cooper Island Beach Club is sitting at the top of our wish list.
Located in the heart of the British Virgin Islands, this eco-resort has everything you could want and more. It's laid back yet insanely luxurious and embodies the boho-chic vibes that define BVI. While the beachside bungalows braved the hurricanes late last year, the hotel is undergoing revamps and renovations and will open its doors again in April.
So if you're looking to book a serene vacation that involves sand, sun, and some serious rum cocktails, this is the place for you. Here's why:
Rum Bar & Microbrewery
Time flies when you're having rum! If you're looking to kick back and sip on some drinks, The Rum Bar and Microbrewery will welcome you with open arms (and menus!). Here you'll find a collection of over 190 rums, delicious craft cocktails, and an on-site microbrewery. To celebrate the re-opening of the hotel, they're going to offer a new beer, Irma's IPA, and the bar will be moved to a larger space to accommodate more beachside beverages.
---
Sea Grape Boutique
Not your average resort wear boutique, this on-site shop is fully stocked with all the beachy chic things you need: sunglasses, designer brands like MINKPINK and Somedays Lovin, tons of swimsuits, artisan soaps, hand-crafted jewelry, and adorable pool floaties (for all of the Insta-worthy shots, of course).
---
Locally-Sourced and Organic Produce
Everything tastes better when it's fresh. The resort's restaurant and coffee shop uses organic produce that's grown on the property including pineapple, papaya, lemongrass, sweet potatoes, bananas, and herbs. The hurricanes have given the resort time to create new garden beds and increase the variety of items grown — just in time for their spring re-opening.
---
Sail Caribbean Divers
How adventurous of a vacationer are you? If you're up for deep sea dives and ocean exploration, the hotel offers dive classes, dive trips, and equipment rentals. They've been spotting pods of dolphins and sea turtles in the mooring field, so you're guaranteed to see some unique aquatic life.
xx, The FabFitFun Team