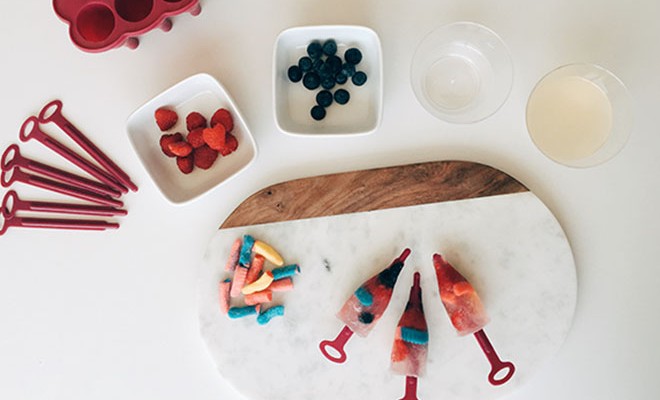 The long weekend basically means pool parties, BBQs, and sweet icy treats. What better way is there to celebrate our nation's independence — amirite?!
Lucky for you, we put together the most delish ice pop recipes for you to take to every BBQ this weekend. Grab your Betchsicles Ice Pop Molds from the FabFitFun Summer Box and start blending!
Ingredients
Handful of raspberries
Handful of blueberries
Handful of red and blue gummies
1/2 cup vodka
1 cup lemonade
Directions
1. Combine lemonade and vodka. Stir well.
2. Layer blueberries, raspberries, and gummies in desired order in ice pop mold.
3. Pour juice blend into each mold.
4. Freeze overnight.
---
Ingredients
1 cup vanilla ice cream
1 1/2 cup almond milk
1 banana
Melted chocolate bits
Handful of red and blue mini M&Ms
Directions
1. Combine ice cream, almond milk, and banana. Blend until smooth.
2. Pour blend into each mold.
3. Freeze overnight.
4. Heat chocolate bits in microwave on half power for 45 sec.
5. Carefully remove ice pops (tip: run the ice pop mold under water to loosen the actual ice pops)
6. Drizzle chocolate over ice pops and sprinkle M&Ms on top.
xx, The FabFitFun Team
P.S. Psst! Have you signed up for the #FabFitFun box yet? Don't miss out on $200+ in amazing beauty, fitness, fashion, and lifestyle products every season. Join today!
To get the most out of your box products, make sure to check out the VIP Insider page.