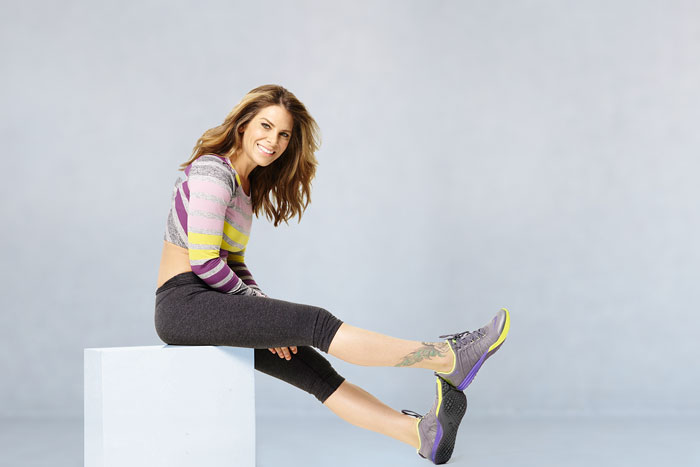 It's impossible to think of health and fitness without recognizing Jillian Michaels. She's dominated the wellness space through hit television shows, successful fitness DVDs, New York Times best-selling books, her website jillianmichaels.com, and the Jillian Michaels App.
Of all her many ventures, her website and app have allowed for the most intimate connection between the trainer and her fans as she equips them with both pre-set and real-time workouts and nutrition plans. She's also created unique workouts for FabFitFunTV, so if you're a member, make sure to check out her videos and give your body a burn!
We also had a chance to chat with Michaels and she dished on her favorite part about helping people get into shape, how she stays motivated, and more.
How did you first discover your love for fitness and health?
I believe that when we feel strong physically, it transcends into all facets of our lives. I was a bullied, overweight 13-year-old who got into martial arts and ultimately redefined my self-image, enhanced my self-esteem and my belief in my abilities through a physical transformation. That's how I fell in love with the transformative powers of fitness and the philosophy that our health is the foundation we build the rest of our life on top of.
What should a first-timer be prepared for when trying your workout?
My workouts are focused and intense, but short and effective. They won't be easy, but they will get you in incredible shape quickly. My workout program delivers results, and anyone who has ever done them can attest to that.
What's your favorite part of helping people get into shape?
Being a part of another person's journey towards a happier and healthier life brings tremendous meaning into mine. There isn't a day that goes by where I don't feel incredible gratitude that I can make a living doing what I love.
What makes your workout method unique?
I have taken years to hone my "trainer logic," which is a really fancy way of saying I have had a really long time to study the science of fitness, put that science into practical application, take what works, leave what doesn't, and integrate those potent techniques into one unified methodology that delivers results. I incorporate the most cutting-edge fitness techniques like PLYO, HIIT, MCT, peripheral heart action, active recovery, muscle splits, drop sets, supersets, and more.
How do you motivate yourself to work out when you're not in the mood?
I like to make myself the 10-minute promise. I promise myself that I will workout for 10 minutes, and after 10 minutes if I'm still hating it, I will stop. 99 times out of 100, once you're in the groove, you think, "this isn't so bad — I can do another 10 minutes." And before you know it, the workout is done and you feel 100 percent better.
How do you think fitness has changed in the digital realm?
I think it has allowed for greater customization. With my app, for example, it syncs with Apple Health, so it offers you a fitness, nutrition, and overall health plan that's completely customized to you. It knows your fitness level, how active you are, what goals you want to achieve, what your dietary needs are, your sleeping schedule, your hydration levels, and more. I can literally be your coach and personal trainer without physically being there for the first time in history. It's amazing.
xx, The FabFitFun Team
Get a 12-month subscription to Jillian Michaels Fitness Training and Meal Plans for only $49.99 (regularly $89.99). Try it for 7 days through the free trial. Cancel anytime. Additional terms and conditions may apply. Sign up at JillianMichaels.com/app and use promo code FFF at checkout to redeem your discounted rate.