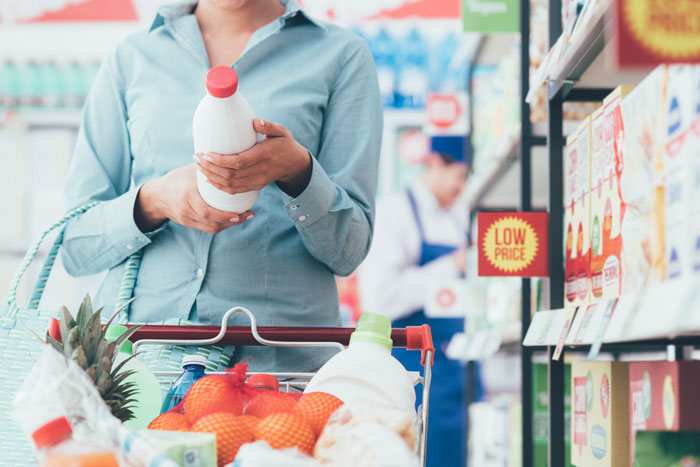 It's no secret that health and obesity have been ongoing issues in the United States, and now the Food and Drug Administration (FDA) is taking steps to help enforce change. The FDA announced that nutrition food labels (the ones you see on the back of your go-to protein bar and bag of pretzels) are getting a new design and updating its mandatory content to better reflect what you're actually eating.
"These changes can help you make better-informed choices about the foods you and your family eat and help you maintain a healthy diet," says the FDA in a consumer report. "The new label reflects updated scientific information, including our greater understanding of the links between diet and chronic disease. It is also more realistic about how people eat today."
According to the report, manufacturers with at least $10 million in annual food sales have until 2020 and manufacturers with less than $10 million in annual food sales will have until 2021 before the new label is required.
Below are all the changes you can expect to see on the updated nutrition labels.
Larger and bold type
The calorie count, number of servings, and serving size will now be in an enlarged and bolded font. "We thought it was important to better highlight these numbers because nearly 40 percent of American adults are obese, and obesity is associated with heart disease, stroke, certain cancers, and diabetes," says the report.
New serving sizes
Have you ever gotten through half a bag of chips, then checked the label to then realize the serving size was only a quarter of the bag? Well, the FDA is requiring that manufacturers base the serving sizes on realistic portions, and for packages that contain more than one serving, you'll see nutrition information per serving and per package.
Added sugar
The consumer report states that less than 10 percent of your daily calories should be from added sugars, so the FDA will require all nutrition labels to display the amount of added sugars to help you keep track of how much you're consuming.
Added nutrients 
The FDA has updated the list of nutrients that must be included on the nutrition label, which includes vitamin D and potassium. However, vitamin A and vitamin C will no longer be required on labels because deficiencies of these nutrients are rare today.
Calories from fat
The FDA says calories from fat is no longer required because it has determined that the type of fat is more important than the amount of total fat consumed.
Daily value
"Daily values for nutrients like sodium, dietary fiber, and vitamin D have been updated and are used to calculate the percent daily value," says the report. The footnote at the bottom of the label has been changed to better explain that the percent daily value is there to help you understand the nutrition information in the context of a daily diet.
xx, The FabFitFun Team