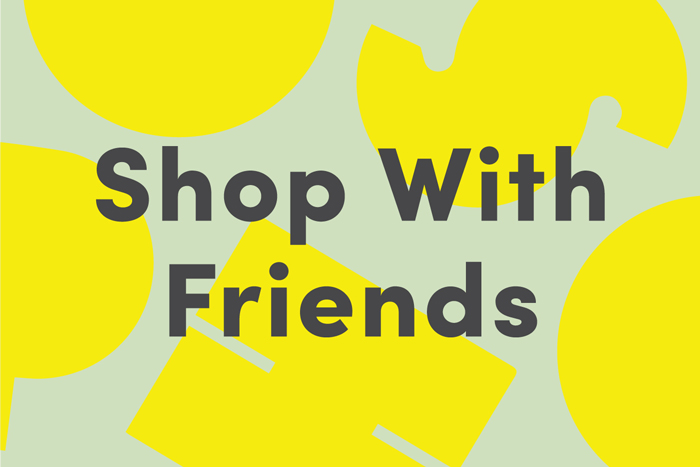 We know how much you guys love shopping our flash sales every season. It's one of your favorite member perks after all! So we wanted to give the opportunity to your closest friends and family to join in on the fun 😉 Because friends don't let friends miss out on amazing deals.
Ready for it? We're excited to test out a new beta program called Shop With Friends. You can invite your best friends who aren't FFF members (yet!) to shop one of the FabFitFun sales exclusively with you! It's like going to the mall with your besties, but you can also earn sale credit. Read on for details. 
How does it work?

You get 3 exclusive invites for friends and family who aren't already FabFitFun subscribers to shop an upcoming Edit Sale or themed sale. For every friend that redeems their invite, you unlock another invite.
Once the sale opens, start shopping! Once your friend redeems your invite, they'll be in your shopping group and you'll be able to see each other's shopping carts. For every friend you invite that shops the sale (aka has an item in their cart when the sale closes), you'll get a $10 sale credit toward your sale purchase. So 3 friends with products in their carts = $30 sale credit for you. And guess what? Your friend gets $10 sale credit, too, if you both shop the sale. We know what you're thinking — yep, if you invite enough friends you can shop for FREE! 
Don't forget about auto-checkout! You and your friends each need to purchase at least one item once the sale closes for the sale credits to apply.
Oh, and if your friend ends up becoming an FFF member during the sale or within 7 days after the sale closes, you get $15 in purchase credit for each friend. 
When can I start inviting friends?

You can invite friends starting Sunday, July 25 to shop FabFitFun Week. For this sale, we're giving you a few days to shop for yourself before you bring your friends and family along. Check your email or go to fabfitfun.com/edit to start sending out invites!
What does "beta" mean?

It means that we're testing this program out! Think of it as the soft launch of a restaurant — we're introducing this perk to everyone and learning and perfecting the program as everyone experiences it. So please share any feedback you have below because we always want to hear from you all!
Click here for more info about Shop With Friends and see the full Terms here.
xx, The FabFitFun Team