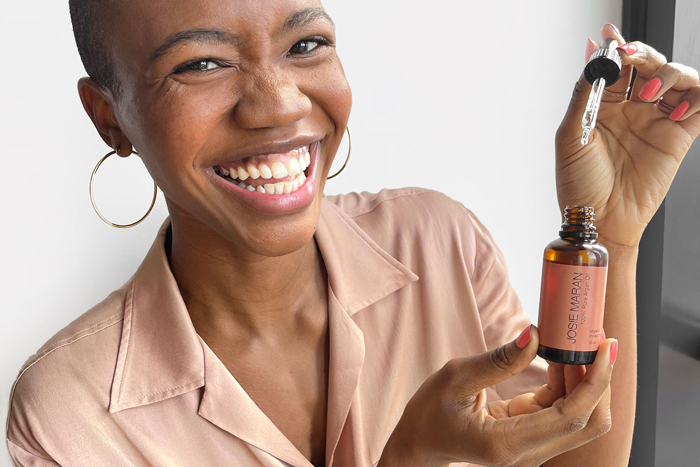 Oils are every beauty guru's best-kept secret. Why? This powerhouse skin care product offers so many uses and benefits. Josie Maran, founder of Josie Maran, shares her favorite ways to use the 100% Pure Argan Oil. P.S. You can follow these tips with most of your favorite oils!
Mix with your foundation
If you want a dewier finish with your foundation, Maran suggests, "Add a few drops to your foundation for a smooth finish that keeps you luminous all day." We also recommend the PÜR™ Cosmetics Iconic Glow Illuminating Face & Body Dry Oil for the ladies who want an extra shimmery look.
DIY a lip scrub
Didn't we tell you that facial oils have so many uses? "Use on your lips for added hydration. Mix with brown sugar for a DIY juicy lip scrub!" shares Maran.
Combat any dryness
Whenever you're dealing with dryness beyond your face, Maran says, "Use on those hard-to-hydrate spots like the cuticles, knees, and elbows for ultimate hydration." You can also "add to the ends of damp hair for non-greasy hydration."
Upgrade bath time
Take bath time to the next level! "Add several drops in your bath for all-over hydration, softness, and a full argan oil experience."
Seal in the rest of your skin care
As you would seal your finished makeup look with a powder, you can do the same with a facial oil after your skin care routine. Maran advises, "Use as the last step in your skin care routine to seal in all of the goodness! I like to say 'Always end with an oil!'"
Moisturize the under-eye area
"Use around the eyes as a treatment [to reduce the appearance of] fine lines and wrinkles," says Maran. Gently tap a couple of drops into the under-eye area to moisturize any dry spots. You can also use an oil with more highly-concentrated ingredients, like the Earth Harbor MARINA Biome Brightening Ampoule, which features spirulina and blue tansy to give the skin a more even, radiant complexion.
What are some of your favorite ways to use oils? Let us know in the comments below!
xx, The FabFitFun Team
Psst! Have you signed up for FabFitFun yet? Don't miss out on seasonal boxes filled with the best products in beauty, fitness, and lifestyle, member-exclusive sales, an amazing Community of like-minded women, and more. Use code FLORALS at checkout for 20% off your first box.
To get the most out of your box products, make sure to check out the Members Only page.