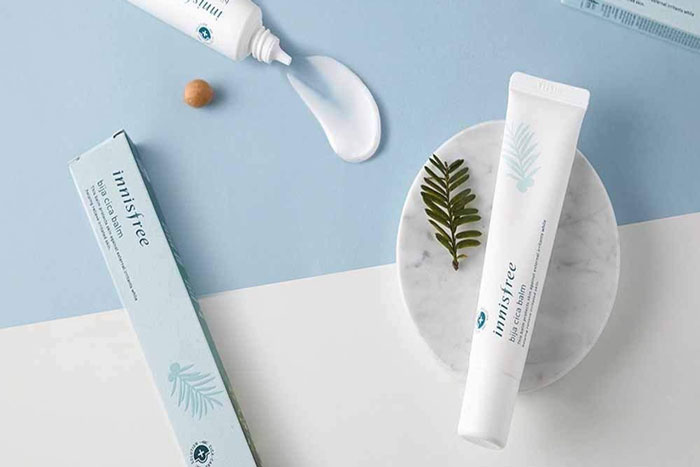 Feature Image by Innisfree
Nothing makes us feel more confident than healthy, glowing skin, which is why we're obsessed with the latest beauty trend: cica cream. You're probably wondering, "what the heck is cica cream?"
We chatted with Dr. Ted Lain, a board-certified dermatologist, to find out more about this miracle-working moisturizer.
What exactly is cica cream?
This moisturizing and barrier-repairing cream gets its name because of one special ingredient — Centella Asiatica extract. "This plant has been used for its anti-inflammatory, wound-healing, and moisturizing properties," says Lain. Recent research also proves that cica cream shows an increase in collagen production, skin thickness, and growth of blood vessels. 
Why are cica creams experiencing a resurgence?
According to Lain, consumers are in search of all-natural methods to improve the health of their skin. And since we love anything that's chock-full of good-for-you ingredients, we fully support the cream's recent popularity.
What are some things to look for in cica cream?
"I always recommend creams or products that perform more than one duty — since we should expect our products to be multitaskers just like us," says Lain. Make sure to do your research and check the labels when buying your next tube of cica cream to find the perfect one for your skin's needs.
Ready to incorporate this beauty trend into your routine? Check out some of our favorite cica creams below.
Grab this at your local drug store for an affordable price. As recommended by Dr. Lain, this cica cream contains pro-retinol, a powerful ingredient that helps skin produce collagen and rejuvenate the skin.
---
Innisfree has combined the power of cica and bija fruit to create this blend that works together to improve the skin's protective barrier, tone, and texture.
---
Although this cica cream is a bit pricier than the rest, its mix of ingredients has multiple benefits that your skin will thank you for, like reducing redness, smoothing out uneven skin tone, and fighting off acne and blemishes.
xx, The FabFitFun Team