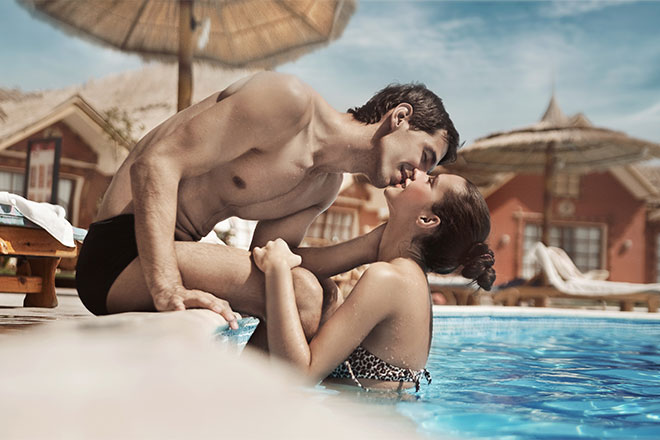 Being in a pool with your partner can make you feel sexy. You're both not wearing much, the water feels great, and the movies have basically taught us that the best make out seshes happen in pools. However, Hollywood has done us a disservice because pool sex can actually be a serious health hazard. Tease your partner with how good you look in a bikini and wait until you're back in bed to get down and dirty.
Chemicals Aren't Sexy
The pool you're in is probably chlorinated or has other harsh chemicals in it. Your vagina and vulva can seriously suffer some unsexy irritation. You might not feel the pain while you're in the water, but you will likely notice red, swollen, or itchy symptoms soon after.
Don't Dive Into a UTI or Bladder Infection
The excessive pumping of water and chemicals into your vagina can cause a very uncomfortable bladder infection post sex. You'll feel a burning sensation while urinating or feel the constant need to go. Not cool. UTIs are already enough of a risk when you have sex on dry land, so adding water makes it that much easier to get.
Water Won't Make You Wet
Yes, it will make your body wet (duh) but pool water can actually wash away the natural lubrication your body secretes when you're aroused. While you'd probably think sex in water would make you wetter, it can actually be painful and less enjoyable because you aren't naturally lubed up.
Condoms Don't Swim Well
Being in the water can effect how lubricated your vagina is and it can also cause condoms to slip off and/or break. Even worse? Because you're in the water, you and your partner may not even notice that the condom is no longer on or that it has broken, therefore leading to the risk of unwanted pregnancies or STIs.
xx, The FabFitFun Team