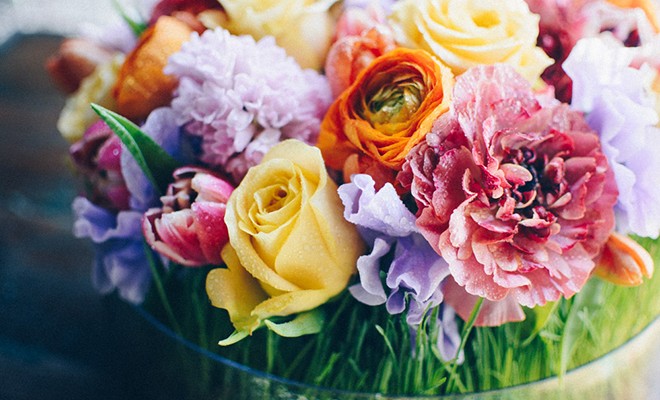 Empty Vase
SPONSORED BY Empty Vase
Who doesn't like receiving a bouquet of flowers? This thoughtful gesture never gets old, and we're positive your mom will feel extra special when you surprise her with a bouquet you put together yourself this Mother's Day!
Don't worry, you don't need to be an expert florist to create a beautiful arrangement. All you need to do is grab mom's favorite flowers and follow these helpful tips from our friends at Empty Vase.
1. Gather your materials. Choose a theme for your bouquet (like warm tones or cool tones), and pick up the flowers at your local flower mart. Empty Vase recommends peonies, roses, or garden roses as they're in season for Mother's Day. Also, make sure to have a strong pair of scissors, cellophane, and butcher paper.
2. Prep the flowers. First, cut the stems at a sharp angle — about one to two inches from the bottom — to ensure maximum water absorption. Then gently open up any closed buds by placing them in lukewarm water first, then cold water. You can also peel off the outer "guard" petals or any petals that look dry or out of place so you're left with just the beautiful bloom on the inside.
3. Start with the base. You want to choose a big and fluffy flower to act as the base, like hydrangeas! The key here is to take up a lot of space in the vase before filling it with other pieces.
4. Include smaller blossoms. Take smaller flowers, like lisianthus, and fill in the gaps to add dimension and depth to the bouquet. Be sure to build up each section evenly while making the layers more interesting by incorporating different colors and textures.
5. Add a touch of green. Balance out the blooms with greenery. You can use eucalyptus silver dollar to add a nice touch of green — and the fresh scent is a plus!
6. Wrap it up. After you're satisfied with your floral arrangement, lay down a clear sheet of cellophane, put butcher paper on top of it, and then another layer of cellophane. Lay the bouquet on top of it diagonally and wrap the flowers starting from the bottom folding the wrap up to cover the stems. Once the stems have been covered by the wrap, fold the left side of the wrap over the bouquet, then the right side of the wrap over the bouquet. Secure the finished product with a ribbon in a complementary color to the blooms.
xx, The FabFitFun Team