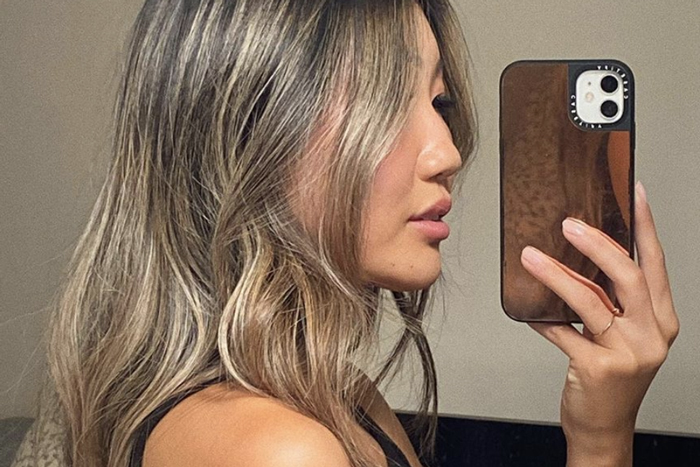 Feature Image by @itsyuyann
This is a topic that's near and dear to the heart: Brigitte Bardot bangs. Yes, you've pinned them, wished upon a star for them, and maybe even cut them yourself. No matter what stage of infatuation you're in, there's no denying this: curtain bangs are the swift of sophistication we need to shake up an overused middle part. Today, we're furthering our case so listen up — and don't try this at home (or do).
First off, what are curtain bangs?
Curtain bangs — also known as fringe bangs — are a low-maintenance take on bangs. This style of bang is parted down the middle, often framing your face on both sides. These textured bangs are a little bit longer so they flow naturally into your hair, giving you that effortlessly cool, French-girl vibe. That leads us to our first point.
They're super low maintenance
As in, I-could-cut-them-myself low maintenance. The sort of natural flow of this style of bangs is what helps it grow out more naturally, so you can sort of trim where and when you see fit. Unlike your blunt, straight-across bangs (think early Zooey Deschanel), you can trim your curtain bangs every four to six weeks and still look and feel good about your textured mane. When it comes to styling, all you have to do is get them a little wet and then apply a little heat. They're bound to fall naturally so styling is basically lazy-girl approved.
They look good on (mostly) everyone
Most curtain bangs look good on everyone, but the real stylistic difference is the length, which is dependent on your face shape. Those with smaller foreheads tend to forgo this style simply because of how much they tend to drape the face. At the end of the day cowlicks, hair type, hair length, and face shape should all be taken into consideration when pondering over potential bangs.
Here's what to ask for at the hair salon
We recommend bringing pictures and tell your stylist that you'd like low-effort bangs that stay true to your middle part and frame your face. Do not utter the word blunt when asking for bangs. Also, not every stylist has perfected this cut, so if you're up for it, try it at home (after watching many, many tutorial videos).
Curtain bangs are a signature style that's been around since the 1970s, and we love to see a comeback. Considering curtain bangs? Drop some of your thoughts on this in the comments below!
xx, The FabFitFun Team