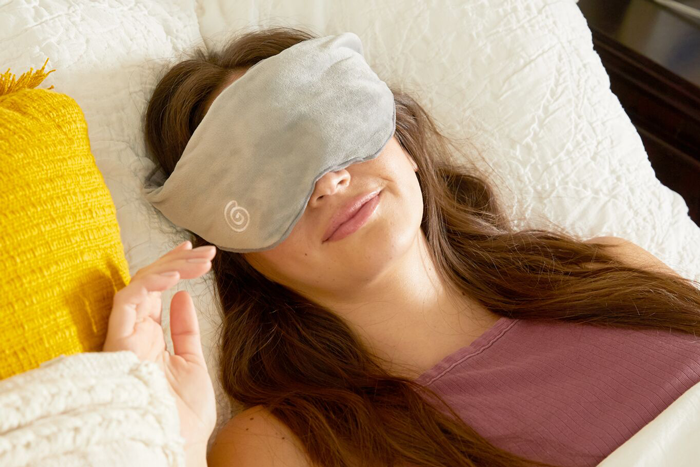 SPRING 2020 BOX PARTNER
If you don't catch enough zzzs, it takes a toll on your overall health. But exactly how does it affect your body?
"Side effects [include] memory issues, mood changes, and risk of diabetes and heart disease," says Jeffery Borenstein M.D., president and CEO of the Brain & Behavior Research Foundation.
Think you know everything about getting good sleep? There are some misconceptions out there, so Borenstein helps us debunk the most common sleep myths.
Melatonin helps you sleep better through the night
False. "Melatonin can help you fall asleep. However, melatonin itself won't knock you out. It simply helps your body to relax and fall asleep easier." Use this works® deep sleep body cocoon before to bring calm and relaxation.
You can make up for lost hours of sleep with a nap
True and false. "Research has shown that just a few minutes of sleep will improve alertness, performance, and mood. But substituting periodic naps for one consolidated night of sleep creates severe sleep deprivation." Wear the Gravity Weighted Sleep Mask to block light and distribute a light touch to key relaxation pressure points to help you snooze – day or night.
Exercising before bed keeps you awake
False. "One research study has found that not only did evening exercise not affect sleep, but it also seemed to help people fall asleep faster and spend more time in a deep sleep." Massage any knots with the Jabonería Marianella Imperial Jade Body Oil before you hit the hay.
The older you get, the fewer hours of sleep you need
Partially true. "The amount of sleep a person needs varies individually and is affected by several factors. However, for most adults, seven to nine hours per night is the ideal amount." Finish your nighttime routine with the Elemis Peptide4 Night Recovery Cream-Oil to wake up with a revitalized complexion or with the Avène Thermal Spring Water to soothe the skin.
xx, The FabFitFun Team
Psst! Have you signed up for FabFitFun yet? Don't miss out on $200+ in amazing beauty, fitness, fashion, and lifestyle products, access to exclusive fitness and cooking content on FabFitFunTV, members-only sales, and more. Use code METAMORPHOSIS at checkout for 10% off your first box. #yourewelcome
To get the most out of your box products, make sure to check out the Insider page.