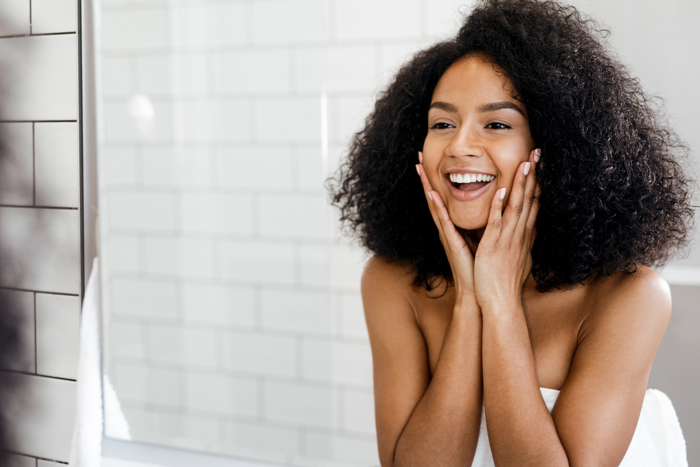 Collagen is widely viewed as a type of "fountain of youth" — it's the key to keeping your skin looking young and healthy. So it's no wonder why so many products from face creams to powder supplements contain collagen. But what exactly is collagen? Experts talked to FabFitFun about everything you should know about collagen, the common myths you should stop believing, and the products that you should be using. 
First off, it's important to know that collagen is one of the most abundant proteins in the body. As holistic esthetician Catie Wiggy tells FabFitFun, it functions as a "durable yet flexible adhesive" that supports the structure of healthy skin. It's found in your bones, muscles, joints, skin, hair, and nails. It's essentially the "glue" that keeps everything together. 
"When you're young, the body provides an ongoing production of collagen which gives the skin a firm, supple feel," Wiggy says. "As we get older, our natural collagen synthesis decreases, thus contributing to visible signs of aging like fine lines, wrinkles, and sagging skin. Collagen is essential to slow the visible effects of aging, and for keeping the skin strong."
With that said, here are some of the biggest misconceptions about collagen, according to experts.
Myth: Taking a collagen supplement is enough to give you anti-aging benefits.
Although taking collagen supplements can help, Wiggy says it's not enough on its own. "Often the supplement is benefiting the collagen in our joints, and throughout the body — not fully impacting the skin," she says. 
In addition to taking supplements, Wiggy recommends applying anti-aging topicals that include plant-based peptides like the Perfect C PRO Serum 25% from MyCHELLE Dermaceuticals. This will help to naturally stimulate the collagen and elastin within the body, which is what many effective collagen products do.
Myth: Simply applying a collagen cream can help boost your skin's elasticity.
According to Meghan Gilboa, licensed esthetician and co-founder of Facialworks skin care and spa, it's actually more complicated than that. In fact, there's no real scientific evidence supporting that just applying topical collagen can boost collagen production.
"In addition, just like with a healthy diet, you also want to help your body do what it already does best, naturally," Gilboa says. "Incorporate ingredients that help the body boost its own collagen production – things like retinol, certain forms of vitamin C, particular peptides – these all stimulate the body's own response."
For instance, Kelp Me Retinol Dry Oil from Facialworks contains ingredients like retinol, wild rose seed oil, and vitamin C that can help promote collagen synthesis and repair the skin. Eating protein and green leafy vegetables can also help with the natural production of collagen.
Myth: You don't need to worry about collagen until you're in your 40s.
"The body's natural production of collagen starts to slow down as early as our 20s, and we lose about 1% to 2% a year," Dr. Renée Moran, physician and skin care expert, tells FabFitFun. "This slow decline is what causes the aging of our skin and joints. Collagen production is also reduced by factors such as smoking, sun exposure, diet, and genetics."
So don't think it's too early to start using anti-aging products if you're still in your 20s or 30s. You can even start by using a daily moisturizer like the Regenerist Collagen Peptide 24 from Olay. If your skin is in need of a quick boost, the Murad Rapid Collagen Infusion treatment can help smooth out lines and soften the skin in under two hours. 
Myth: When you start taking a collagen supplement, you will see and feel an immediate improvement in skin tone, hair, nails, and joints.
Ah, if only things really did work like that. But in reality, Moran says, collagen should be taken daily for a "cumulative effect," and results can initially take up to six weeks. Moran recommends Vital Proteins Collagen Peptides powder.
"I use it in my coffee every morning," she says. "It dissolves easily and has no taste. I chose Vital Peptides as a result of researching the clean versions of collagen peptides; I use the unflavored, and the Beauty Lavender Lemon, which targets skin, hair, and nails."
The same applies to topical products. While you may get immediate results from some skin care products, your lifestyle choices really matter most. Drinking a lot of water, eating enough proteins and vegetables, and protecting your skin when you're out in the sun is essential in keeping your skin looking bright and youthful.
xx, The FabFitFun Team
P.S. You can find amazing beauty goodies like these (plus more!) in the FabFitFun box. Use code GOODIESGALORE for 20% off your first box, access to member-exclusive sales, exclusive fitness and cooking content on FabFitFunTV, and tons more perks.