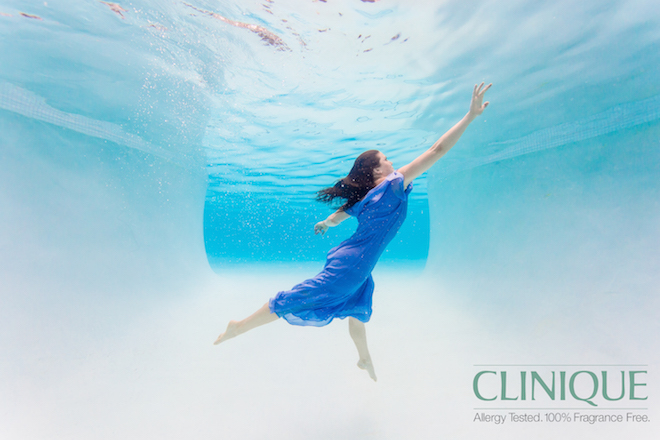 Ariel wanted to be a human, but we've always wanted to be a mermaid!
Luckily, Clinique became our fairy Godmother (or would it be Ursula?) at their recent #SummerInClinique event and made our dreams come true!
To celebrate the rapidly approaching arrival of summer, we were invited to dive right into an underwater photo booth experience that had us feeling like we were in a whole new world. With a selection of gorge vintage-inspired, flowing dresses to choose from, we picked our fave and then headed for the pool.
Photographer France Duque gave us direction and made us feel as graceful as a real mermaid as she snapped away. And the final shot was insanely beautiful.
After going for a swim, it was time to be pampered, and the Clinique makeup artists were on standby ready to beautify every guest. Each of us received a personal skin analysis to determine which products work best for our unique complexion, and we were then given a gorgeous, natural look to wear through the rest of the day. (P.S. We are so excited for the June launch of Clinique's new Mineral Sunscreen Fluid for Face, which comes in SPF 30 and SPF 50 — a total must-have for summer.)
And as for that wet hair? Glamsquad saved the day by giving us a beautiful braid and bun, keeping us dry and stylish.
Of course, summer isn't complete without tasty treats. So we headed to the macaron ice cream bar where we picked our favorite flavor of macaron, sandwiched some ice cream, and then poured our toppings of choice on top.
After a successful day of "mermaiding" and being beautified, we left with our hands full of Clinique's amazing 3-Step System, which includes a Liquid Facial Soap, Clarifying Lotion, and Dramatically Different Moisturizing Lotion.
The only thing we're missing now is a fin!
xx, The FabFitFun Team