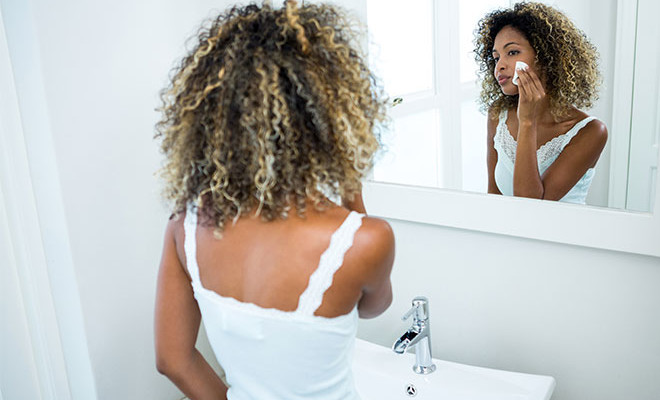 We've all had those moments where we fell asleep with our makeup on or hastily washed it off because we were anxious to get to bed. But if you want healthy and clear skin, you need to thoroughly cleanse and hydrate before hitting the sheets.
Get into the habit of establishing a non-negotiable beauty routine. It will not only improve your skin, hair, and overall well-being, but it will also boost your confidence and help create a routine to begin and end your day with.
Below, we listed some steps we always adhere to in our daily beauty routine. Note that these are just suggestions and everyone's beauty routine can be slightly different.
Take off Your Makeup… with Shiseido Instant Eye and Lip Makeup Remover $27
There's a reason why a handful of women look younger than they actually are — it all starts with the golden rule of taking your makeup off before you hit the hay. Makeup can easily clog pores and leave your skine prone to breakouts. We especially love this makeup remover because it's a two-for-one. It's safe enough to use to take off your lip gloss and fave eyeliner.
---
Cleanse Your Skin Thoroughly… with Neutrogena Deep Clean Cream Cleanser $5.99
We love this oil-free cleanser because it doubles as a makeup remover — it'll help you wash off makeup that was missed with the remover. This cleanser is also great for removing dead surface skin cells which dull your complexion. You'll look and feel super fresh and primed for the rest of your beauty routine.
---
Hydrate Your Skin and Apply SPF… with Burt's Bees BB Cream $15
With just a hint of color and feel of lightweight foundation, Burt's Bees BB Cream firms, conceals, illuminates, and protects skin with its SPF 15. It will help moisturize while adding some extra coverage to smooth out the skin tone. Not sure which color is right for you? We've got Burt's Bees BB Cream samples in our FabFitFun Summer Box!
---
Moisturize Your Lips… with Fresh Sugar Rose Tinted Lip Treatment with SPF 15 $24
Lips are often forgotten about when moisturizing the skin. That's why we love Fresh's lip tint because it's multi-functional — the lip treatment adds a hint of color and SPF protection. the moisture-rich texture glides on smoothly and looks great on every skin tone.
---
Brush Your Hair… with The Wet Brush $10
Trust us when we say this brush will save you the time and agony of trying to comb through tangled hair right after a shower. This brush needs to become a staple in your routine as the bristles are specifically made for wet hair. Plus, it works on all hair types!
---
Nourish Your Body… with Aveeno Daily Moisturizing Sheer Hydrating Lotion $7
Often times, we're so focused on our face when it comes to beauty that we forget to take care of skin on other parts of our body. Apply this lotion all over for a lasting 24-hour hydration. It'll help prevent sun-damaged wrinkles in the future!
---
At Night, Apply a Night Cream… with Olay Regenerist Night Recovery Cream $23
It's never to early to start renewing your skin while you sleep. Apply this cream at night instead of your moisturizer and wake up to plump, dewy skin! Many night creams can help with anti-aging, as well.
xx, The FabFitFun Team